Russell Wilson's Viral Campaign Is a Step in the Right Direction for the NFL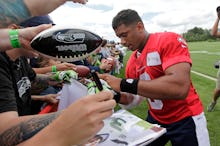 There's no doubt that the NFL failed in its response to the Ray Rice domestic abuse scandal.
Beyond the initial soft suspension, the alleged cover-up of the elevator video and the tone-deaf "damage control" press conferences, the NFL failed to use its power to truly address the issue of domestic violence, a problem hardly unique to the league.
Luckily for the NFL, and domestic abuse centers nationwide, Seattle Seahawks quarterback Russell Wilson has stepped in to fill that void.
Clearly inspired by success of the ALS Association's Ice Bucket Challenge, Wilson has taken it upon himself to start the "Pass the Peace" video challenge. Wilson urges others to donate to the National Domestic Violence Hotline, and then make a video holding up a two-fingered peace sign and passing a football across the Internet to two friends.
The first two people he challenged? Derek Jeter and Justin Timberlake.   
Wilson hasn't just made a quick YouTube video, though. He has also founded the Why Not You Foundation hoping to use his platform as an NFL star to raise funds and awareness for a number of causes, domestic violence being the first issue at hand.
Wilson said domestic violence emergency shelters are in dire need of funding, as every day as many as 10,000 people are turned away, nationwide.
"Maybe in our cynical world, this seems too ambitious, or even naïve," Wilson wrote on the Why Not You website. "Maybe [domestic violence] is too taboo, too toxic. I've tended to avoid controversial topics throughout my career, but ... I wanted to be open and address something that's important, timely and relevant.
"I've been silent on the issue for too long, falling back on the 'I can't speak to someone else's personal life' excuse. But victims need physical, emotional and financial support and care, and the resources to get away from their abusers. Abusers, you need to get help — you can change."
Wilson, who humbly calls himself a "recovering bully" because of the way he used to treat other kids, timed the Pass the Peace challenge to coincide with Domestic Violence Awareness month. And while it's the campaign may not reach the unprecedented success of the Ice Bucket Challenge videos, one thing is clear: The NFL could certainly do with more Russell Wilsons in its league.