13 Feminist Comedians Prove Just How Fun Challenging the Patriarchy Can Be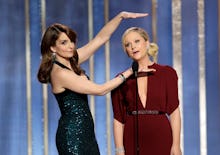 It's a common, albeit outdated, misconception that women are grumpy, humorless bellyachers. For some, the concept of a funny feminist isn't just a radical notion — it's completely incongruous. But the fact is, funny feminists don't just exist — they're thriving, breaking down barriers while making a whole lot of people, men and women, laugh. A lot.
Like many industries, comedy — of both the stand-up and late night varieties — is largely male-dominated. Men have long ruled Forbes' annual list of top-earning comedians, and it's no surprise: Comedy has traditionally been a boys' club.
But that's changing.
Female funny ladies are increasingly proving that women, and feminists, are hilarious, too. As comedian Lisa Lampanelli observed last year, "People are embracing that women can be edgy and not just talk about their periods and shopping and their husbands."
Even better, female comedians are increasingly playing a key role in the feminist movement by leveraging their public platforms to speak out in favor of feminism and equality. Check out these 13 funny ladies who are not only nailing comedy, they're nailing feminism, too.
1. Margaret Cho
2. Ellen DeGeneres
3. Chelsea Handler
4. Mindy Kaling
5. Emily Heller
6. Lena Dunham
7. Amy Poehler
8. Sarah Silverman
9. Amy Schumer
10. Jenny Slate
11. Wanda Sykes
12. Tina Fey
13. Cameron Esposito