Up to Half the U.S. May Be Victims of JPMorgan Cyber Breach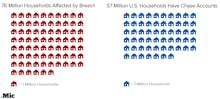 Have a Chase bank account? There's a good chance that your email address, phone number and home address are now in the hands of hackers.
Yesterday JPMorgan Chase & Co. disclosed that a shocking 76 million households were affected by a massive cybertheft that began in June, according to the Wall Street Journal.
How many of those households are in the U.S.? Unclear.
According to JPMorgan's most recent annual report, the bank has a relationship with "nearly half of the households in America," or roughly 57 million households.
In the worst-case scenario, all of those 57 million American households with Chase accounts were affected by the cyberbreach.
Source: JPMorgan Chase & Co. Form 8-K disclosure; JPMorgan 2013 Annual Report; U.S. Census Bureau. Number of U.S. households with Chase accounts is an estimate. Icon from Olyn LeRoy from the Noun Project.
JPMorgan's disclosure stated that user contact information such as "name, address, phone number and email address" had been compromised for online banking users who had logged in to chase.com or jpmorgan.com from any device.
While the bank also noted that fraud rates have remained at normal levels since the breach, the loss of contact information increases the risk of identity theft for millions of Americans.
At a minimum, Americans affected by the breach can now be targeted in email phishing attacks. An example of phishing would be a scammer sending an email pretending to be from Chase, asking to "verify" (aka steal) a person's account information and online banking password.
The fact that hackers were able to make off with such a huge amount of data calls into question the safety of more sensitive data like social security numbers, dates of birth and passwords.
That's a scary thought. And yet another reason why it might be time to go back to stashing cash under your mattress.