The Islamic State Claims It Has Beheaded Another British Hostage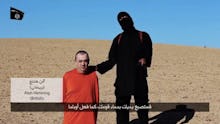 A video released by the Islamic State on Friday purports to a militant beheading British air worker Alan Henning, the Associated Press reports.
The video mirrored other beheading videos shot by the Islamic (which we wont be linking to, for obvious reasons). The executioner claims the video is revenge for the bombing campaign against IS militants in Iraq and Syria. The video ends with an Islamic State fighter threatening a man they identified as an American Peter Kassig.
"Obama, you have started your aerial bombard of Shams (Syria), which keep on striking our people," the militant says. "It is only right that we strike the next of your people."
"We are aware of the video and are working urgently to verify the contents," a spokesman for the British Foreign Office told Reuters. "If true, this is a further disgusting murder. We are offering the family every support possible; they ask to be left alone at this time."
This is the fourth such video released by the IS following the gruesome beheadings of American journalists James Foley and Steven Sotloff and British aid worker David Haines.
The U.S. and British governments could not immediately verify the video's authenticity, though it was released in the same manner as other Islamic State group videos.