Ferguson Residents Are Doing the Best Thing Possible to Seek Justice for Michael Brown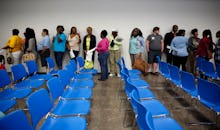 The news: Fed up with the city government's almost entirely white city council and the heavy-handed response to demonstrations over the shooting death of unarmed teenager Michael Brown, residents of Ferguson, Missouri, are registering to vote en masse.
USA Today reports that since Brown's Aug. 9 death, 4,389 people in St. Louis County have registered to vote, including some 3,287 Ferguson residents. That's a significant increase, considering that the town has only about 21,000 people.
Why it matters: Vox's German Lopez writes that this could seriously affect how Ferguson's residents are represented in upcoming elections:
To put that in further perspective: 12,096 people were registered to vote in Ferguson as of April, and unopposed Mayor James Knowles won with just 1,314 votes.
Voter turnout in Ferguson has been very low during local elections, ranging from under 9% to just over 12% since 2012. But with new voters primed and ready to go to the polls, chances are Ferguson's future local authorities could end up looking a lot more like its actual residents.
In the short term, new voters will influence the race for St. Louis County executive, a position which has been held by Democrats since 1991. Some 30 local African-American elected officials have backed Republican challenger Rick Stream, saying that the current Democratic nominee, Steve Stenger, won't do enough to change dysfunctional county government. St. Louis Today reports that Stenger has close ties to Robert McCulloch, the county prosecutor Ferguson residents are demanding step down for his role in the Brown case. It's unlikely that Stenger will lose (he's painting Stream as a bit of an extremist), but perhaps the mounting public pressure will force him to make concessions to popular demand.
In the longer term, three Ferguson city council seats will be open in April 2015, and community activists are already preparing a massive effort to turn out Ferguson's discontented locals to the polls. According to USA Today, "demonstrators are vowing" turnout will be different. In the 2013 municipal election, approximately 52% of voters were white despite comprising a minority of the overall population. Community activists have accused the council of mishandling Brown's death and demanded Mayor James Knowles step down. Both the mayor and city police chief Thomas Jackson have defended the police force's lack of diversity (just three of 53 police officers are black) as unintended, with Knowles claiming the city doesn't "get nearly as many African-American applicants as we would like."
If Ferguson's activists are committed to change at the local level, they're have an opportunity to channel their words into action in coming months and form a more representative government. This is democracy in action — not what state GOP head Matt Willis called "not only disgusting but completely inappropriate" in August.