The Islamic State Has Released Another Video of an Executed Hostage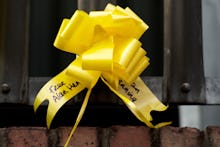 The Islamic State executed a fourth western hostage in a video released Friday.
The victim this time was Alan Henning, a 47-year-old British aid worker and father of two. He was kidnapped after arriving in Syria in December for his fourth aid mission in the country. The video made reference to the United Kingdom's decision to join the U.S. in airstrikes against IS.
The militant group threatened American hostage Peter Kassig next, saying he would be executed unless President Obama called off airstrikes.
British Prime Minister David Cameron called the execution "barbaric and repulsive," according to the BBC. "My thoughts and prayers tonight are with Alan's wife Barbara, their children and all those who loved him," he said. "Alan had gone to Syria to help get aid to people of all faiths in their hour of need."
Majid Freeman, a friend of Henning, told the BBC that Henning was a "selfless, humble, courageous individual," adding, "He was helping the innocent people the rest of the world had abandoned... It doesn't make sense to kill him."
It certainly makes no sense morally, and there's a strong argument to be made that it doesn't make sense politically either, even for a militant group like IS.
While countries like the U.S. and U.K. were weary of war in the Middle East and treading carefully where Syria and Iraq were concerned, executing citizens changed the game. Neither country is going to pay IS for the release of hostages, and both Obama and Cameron are under immense pressure to respond with military might.
Slate's William Saletan calls the execution videos "a suicidal act" for IS. "By issuing threats and ripping off the heads of Americans, Brits and a Frenchman, ISIS thought it would scare us away," he writes. "But the videos didn't dampen American, British or French support for military action. They increased it."
Neither country is going to put a stop to airstrikes because IS is threatening more hostages. With each execution, Western countries only get more and more dedicated to military action against the group.