Top North Korean Officials Made Surprise Visit to South Korea for the First Time in Years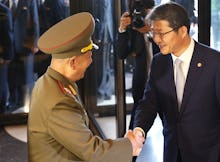 The news: After years of mostly frosty relations, something surprising happened on Saturday: North Korea and South Korea are talking again.
High-level North Korean officials — including Hwang Pyong So, considered to be the country's No. 2 man — made a surprise visit that broke seven months of what the Wall Street Journal calls a "diplomatic deadlock."
"The two sides agreed to discuss details for the resumption of the high-level contact," South Korea's Unification Ministry said in a statement. Formal talks will continue this month and November.
Why did this happen? Like many recent diplomatic moves by North Korea, this one involved sports. South Korea is hosting the Asian Games, an Olympics-like regional competition that ends Saturday. North Korean officials came in for the closing ceremonies and complimented their southern neighbors for their treatment of North Korean athletes, calling the support a "big help" according to the Wall Street Journal.
The last time formal talks were held was in February of this year, and they ended on a positive note. North Korea held a reunion for families who were separated by the Korean War in the 1950s. While it looked like relations had improved, things got icy again and military tension returned.
Despite that previous breakthrough, North Korean officials actually hadn't made a visit like this in five years. The last time was for the 2009 funeral of former South Korean President Kim Dae Jung.
Where was the Supreme Leader? As North Korea makes this gesture, questions remain about the health of leader Kim Jong Un, who hasn't made a public appearance in months. A video of the ruler touring a factory in early September showed him with a pronounced limp, according to CBS, with narration saying, "Our leader walks the path of leadership like fire for the people, despite his inconvenient body."
While Kim's medical situation is a very closely guarded secret, reports from South Korea say he had surgery on his ankles and is recovering in Pyongyang. The recent talks may be a way to show his power despite the injury, but they're a welcome development nonetheless for the two countries.