McDonald's Unveiled a New Gourmet Burger Menu in Australia, and It Looks Pretty Delicious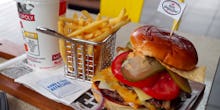 Are you ever standing in line at McDonald's and wondering to yourself, "Why aren't there more gourmet options at this place?" or "Why do I even have to talk to another person to get my food?" 
Well, someone at McDonald's headquarters had those very questions in mind, because a new burger menu and ordering system has appeared at the Golden Arches' Castle Hill location in western Sydney, Australia that allows users to order custom-prepared "gourmet" burgers through a touch screen.
But in case you're not visiting the Down Under anytime soon, one YouTuber documented a recent trip to Macca's (Australia nickname for the chain) and his experience with the new menu:
The new system involves a touch-screen ordering system where hungry diners can build a custom burger from scratch while choosing from 19 ingredients. These include some more creative ones such as guacamole, tortilla strips, grilled pineapples and beetroot, as well as a variety of sauces ranging from the standard ketchup and mustard to herb mayo, chipotle mayo and tomato-onion relish.
Plus after you order, you can tell the machine where you'll be sitting, and a waiter will deliver the food to your table.
"What we're really doing here is simply what our customers have asked us to do," Andrew Gregory, CEO of McDonald's Australia, told News.au.com. Based on the current reports, it looks like only Australian customers are clamoring for the gourmet options; as of now, McDonald's will be looking to expand the service to the rest of Australia, but no plans have been announced to bring this burger ATM elsewhere. 
But hopefully that will change. Of course, there's always the concern that more technology will take away more jobs (one report suggested that nearly half of all U.S. jobs are vulnerable to computerization). However, the fact remains that a company like McDonald's is actually trying to improve what its customers put in their bodies (even if it still has a bit to learn about how it treats its employees).