This Kenyan Teenager Developed a Clever Way to Stop Elephant Poachers in Their Tracks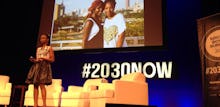 Kenya's elephants are in trouble. Mercy Sigey has something that can help.
With the help of her classmates, the 19-year-old freshman at Strathmore University in Nairobi, Kenya, developed a sensor to let park rangers know when poachers have entered a wildlife preserve. The result was shown at the United Nations Social Good Summit last month.
The background: Sigey told the summit crowd how she was inspired by the death of an icon in May. Satao was a 45-year-old Kenyan elephant well-known for his age and size; his tusks were six and a half feet long. He was killed by poachers for those tusks in what local officials told National Geographic was a "monumental" loss.
"I'm sure all of you here sitting in this hall would want to see an elephant standing magnificently and not lying down dead on the ground," Sigey said at the summit.
She and her class received support from Innovate Kenya, a program that awards funding to students who pitch solutions to local problems. This particular solution involves Arduinos, which are little sensors that detect nearby movement. By placing enough of them around park borders, authorities will know if someone sneaks in (and alert them to the presence of wildfire, another issue).
The numbers: Elephants in Kenya are suffering from a recent jump in poaching as a result of increased international ivory demand. An aerial census of the Tsavo-Mkomazi ecosystem by the Kenyan Wildlife Service found 11,076 elephants, down from 12,573 in 2011.
Continent-wide, poachers kill about 25,000 elephants a year. "It's the worst that it's been in the last 30 years," Kenyan conservationist Ian Craig told CBS. "It's a steady deterioration, and it's getting worse."
With the help of people like Sigey, though, there might be a brighter future for elephants like Satao. Those little sensors won't put an end to poaching, but they'll make it a lot harder for potential hunters to sneak into protected areas.