Jack White Has Some Surprisingly Insightful Things to Say About Women in Music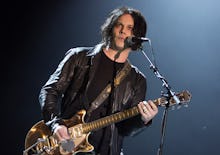 Jack White, the musician known for his work with The White Stripes, the Raconteurs, the Dead Weather and as a solo act, dislikes a lot of things. Here's one more you can add to that list: sexism in the music industry.
In a recent interview/chat with Pearl Jam guitarist Mike McCready for the band's Sirius/XM station, White talked about his all-female back-up band he's been using over the past couple years (White tours with two back-up bands, one all male and one all female) and how female musicians don't really get much respect in rock 'n' roll, or really a lot of music in general.
"It's a real shame that if a woman goes onstage with an instrument, it's almost a novelty. Like, 'Oh, isn't that cute.' It's a shame that in 2014 that's a little bit of what's going on in the perception in the room."
White said his all-female back-up band just kind of came about through pure happenstance at a rehearsal — there was no rhyme or reason, it just happened. During the session, White recounted, someone asked why all the musicians were female, to which the female drummer responded, "That's funny, because no one ever says, when there's all guys in the room, 'What's the deal with all the guys?'" 
He's totally right. All too often, female instrumental musicians are either dismissed outright or thought of as a cute addition to a "man's band," whatever that is. And instead of pursuing that craft, many female musicians are relegated to twerking their way to the top. Despite all the other advancements our society has made in the realm of sexism, there's a clear yet unrecognized divide between male and female musicians that's existed for decades. 
And even when established and popular female musicians reach for a guitar or piano (artists like Lady Gaga, Taylor Swift, Alicia Keys immediately come to mind), it's almost looked down upon as a "cute gimmick" or "neat trick," rather than what is really is: a talented musician playing an instrument. Sex and gender shouldn't matter in this case; but they unfortunately do, and that has to change. 
You can listen to the clip below, and the rest of the interview at Consequence of Sound.
h/t Spin