Meet the Youngest Woman to Be Elected to Congress in U.S. History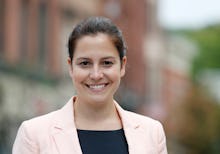 Update, 11/4: Elise Stefanik defeated Democrat Aaron Wolf in the race to represent New York's 21st Congressional District.
Elise Stefanik is something of an enigma in U.S. politics: a young, female Republican. But not only that, the 30-year-old is a rising star in a political party that's struggled to court the young and females votes, and there's a very good chance you'll hear a lot more about her soon. 
Stefanik is running for Congress in New York's 21st Congressional District and has a very good chance of winning: ABC News reports that a recent poll by WWNY-7 News and the Siena Research Institute found Stefanik leading her opponent 46% to 33% and showed that she has support from both Republican and Democratic voters.  
Adding to that success, House Speaker John Boehner selected Stefanik to deliver the GOP's weekly address. Take a look:
"One month from today, all Americans face a clear choice: Stick with the status quo of more government, more spending and higher taxes or choose a new direction of new ideas to unleash job creation and economic growth," she says in the clip.
If she wins in November, Stefanik will be the youngest woman in Congress and will deliver a revitalization to a party in desperate need of one. And on top of that, not only is Stefanik young and female, but she's every Republican strategist's dream candidate: She's a small-business woman, has debate experience, has worked on past GOP president campaigns and is very active on social media. Take a look at some of the posts on her very busy Instagram:
She even gets her named hilariously misspelled at Starbucks!
Of course, only time will tell whether Stefanik has the muster to accompany her theoretically perfect résumé. But in the meantime, Stefanik's success and acceptance within the party so far points to a more open and accepting GOP, one that will hopefully consider the needs and wishes of people other than rich, white men.
And even if Stefanik can't manage a victory in November, chances are you'll be hearing a lot more about her over the next few years.