Watch Ferguson Protesters Interrupt the St. Louis Symphony With a Requiem for Michael Brown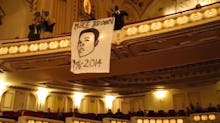 Concertgoers at the St. Louis Symphony's regular performance enjoyed a brief interruption on Saturday evening as protestors serenaded the audience with a civil rights song dedicated to Michael Brown, the unarmed teen who was shot to death in Ferguson, Missouri, in August. That evening marked the two-month anniversary of Brown's death.
The St. Louis Post-Dispatch reports that as the symphony prepared to perform Johannes Brahms' Requiem following intermission at St. Louis's Powell Symphony Hall, two audience members stood up and began singing "Which Side Are You On?" to the stunned attendees. Other protestors joined in song as banners were unfurled from the balconies reading: "Racism live here" and "Requiem for Michael Brown 1996-2014."
Following the impromptu performance, paper hearts inscribed with "Requiem for Michael Brown, May 20, 1996 – August 9 2014" were dropped onto the crowd below. As the protestors exited the theater, protesters chanted, "Black lives matter."