Same-Sex Marriage Is Now Legal in the Majority of U.S. States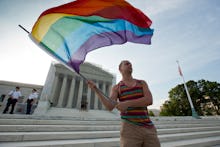 The Associated Press reports that, "The Supreme Court rejected appeals from five states seeking to prohibit same-sex marriages [on Monday], paving the way for ... [marriages in those states and, in turn, making same-sex marriage legal in the majority of U.S. states for the first time]." 
The justices "did not comment" in rejecting seven cases in total from from Indiana, Oklahoma, Utah, Virginia and Wisconsin, the Associated Press reports. But because the Supreme Court's decision also affects marriage delays in six other states, the Court's decision has made same-sex marriage officially legal in 30 states and the District of Columbia.
"The court's order immediately ends delays on same-sex marriage in Indiana, Oklahoma, Utah, Virginia and Wisconsin," the Guardian explains. "Couples in six other states — Colorado, Kansas, North Carolina, South Carolina, West Virginia and Wyoming — should be able to get married in 'short order', the Associated Press reported. Those states would be bound by the rulings that were put on hold pending the supreme court's review, because they are part of the appellate courts' jurisdictions.
"Any time same-sex couples are extended marriage equality is something to celebrate, and today is a joyous day for thousands of couples across America who will immediately feel the impact of today's Supreme Court action," Chad Griffin, president of the gay rights group Human Rights Campaign, told Reuters in a statement.
Editors Note: Mar. 3, 2015 
An earlier version of this article cited Associated Press reporting, but did not include quotations around the cited passage. The story has been updated to fully attribute the Associated Press' language.