The Two Women Pictured Here Just Made History in Virginia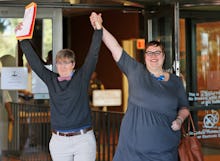 Shortly after 1 p.m. on Monday afternoon, Nicole Pries and Lindsey Oliver became the first same-sex couple to be legally married in the state of Virginia.
On the steps of the John Marshall Courthouse in Richmond, Virginia, Pries and Oliver were the first of several couples to wed after the 4th Circuit Court of Appeals issued its mandate legalizing same-sex marriage in Virginia.
State Attorney General Mark Herring took quick action, making the announcement on the new lawful unions only hours after the U.S. Supreme Court rejected a series of lawsuits that aimed to prohibit same-sex marriage in a number of states, including Virginia. Herring took to Twitter shortly after the Supreme Court's announcement:
Unlike some other attorneys general, Herring warmly accepted the court's decision with open arms, saying in a statement released Monday afternoon:
"A new day has dawned, and the rights guaranteed by our Constitution are shining through.
With this latest development, gay marriage is now legal in 30 states and Washington, D.C. — the first time in modern American history same-sex marriage has been legally recognized in the majority of of U.S. states.