Kim Jong Un May Not Be in Control of North Korea Anymore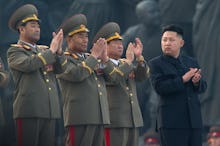 Where in the world is Kim Jong Un?
"This sort of action suggests there has either been an attempted coup or that the authorities there have uncovered some sort of plot against the leadership," Toshimitsu Shigemura, a professor at Tokyo's Waseda University and an authority on North Korean affairs, told the Telegraph. "If it is a military-backed coup, then the situation in Pyongyang will be very dangerous and I have heard reports that Kim has been moved out of the capital."
Image Credit: Associated Press
For some experts like Shigemura, the crumbs of information trickling out of the notoriously isolated country suggest that Kim's regime may be on the decline — if it hasn't fallen already. At the Daily Beast, North Korea expert Gordon G. Chang sees a power grab by Hwang Pyong So, the North Korean military's top political officer. 
"Now he has crossed the border into South Korea on a one-day, short-notice trip, triggering hopes of reconciliation between the arch-rival republics — and heightening speculation about the fate of Kim Jong Un, North Korea's young supremo, who has not been seen in public since Sept. 3," Chang said. "Hwang's trip South on Saturday comes on the heels of a widely publicized report that Kim has been deposed.
Jang Jin Sung, a former North Korean counterintelligence and propaganda official, is claiming that the Organization and Guidance Department of the Korean Workers' Party, responsible for promotions within the regime, has taken over the country. Kim, according to Jang, is now merely a 'puppet.'"
Despite this, North Korea watchers think it's unlikely Kim's absence from the public eye signals an outright coup. "There are signs that not only has Hwang risen, but also that Kim has fallen. The young ruler did not preside over last's month meeting of the Supreme People's Assembly, the first time that has happened since he took power after his father's death in December 2011," Chang wrote. "Yes, he may have been ill, but if he was politically healthy, the meeting would have been postponed until he was able to appear."
Editors Note: Mar. 2, 2015 
An earlier version of this article cited the Daily Beast's reporting, but did not include quotations around the cited passage. The story has been updated to fully attribute the Daily Beast's language.