John Boehner, Who Is Suing the President, Is Very Worried About Frivolous Lawsuits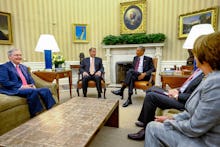 House Speaker John Boehner, the most powerful Republican in Congress, thinks the U.S. needs to reform its legal system. 
So, what's the first order of business?
According to a Boehner ad, we should begin by stamping out the costly scourge of frivolous lawsuits:
"We let anybody in America sue anybody any day for any damn reason they want," the speaker barks about halfway through the clip. "And we all pay for it."
No one knows this better than Boehner himself. He is currently suing President Obama, saying the president "overstepped his legal authority" in delaying (by one to two years) a provision in the Affordable Care Act that would require most employers to offer coverage to their workers.
Boehner got the legal go-ahead from his House colleagues, five Democrats among them, who voted by a 225-201 margin to authorize the suit. 
NBC News reported in August that BakerHostetler, the law firm handling the case, charges $500 per hour for its services. That tab will be picked up by the American taxpayer, as the White House has cheerfully repeated whenever asked about it.
Republicans are still looking for a court open to hearing the case. A similar suit, filed by the Association of American Physicians and Surgeons, was recently tossed out by the 7th Circuit Court of Appeals.
If Boehner is really so worried about the excessive costs of frivolous litigation, perhaps he could start with his own lawsuit.