The Cult Show That Launched Television's Golden Age Is Coming Back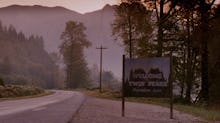 It's official: Twin Peaks, arguably the greatest cult show in television history, is returning for one last season. 
From 1990 to its sudden cancellation the following year, this small-town murder mystery redefined narrative television by weaving dream logic and supernatural elements into its look at the horrors lurking beneath the veneer of everyday life. Without Twin Peaks, most cable shows we revere and celebrate today would likely not exist.
Its return was decades in the making.
The announcement unfolded masterfully. Near the end of season two, which fizzled on notoriously unresolved terms in June 1991, murdered high school student Laura Palmer (Sheryl Lee) comes to FBI Special Agent Dale Cooper (Kyle MacLachlan) in a dream. The scene climaxes with one of the most memorably cryptic lines of the series:
Fast forward nearly 25 years to Oct. 3, 2014. It's 8:30 a.m., and Twin Peaks co-creators David Lynch and Mark Frost tweet this message simultaneously:
For context, this quote alludes to a dream sequence from Twin Peaks season one where an unnamed little person delivers a thread of riddle-like clues to Cooper to help him solve the case. By unpacking these clues, Cooper inches ever closer to solving the case and unraveling the sinister horrors hiding in the woods surrounding the town.
The tweets caused huge swaths of the Internet to buzz with excitement. Fans speculated about the unthinkable — the return of a beloved series that was cancelled almost a quarter-century ago.
Then on Monday, Deadline dropped the bomb: Showtime will launch production on a nine-episode final season next year. It will air in 2016, exactly 25 years from when Laura Palmer said she would see Special Agent Cooper again.
Background: According to the report, season three will take place two decades after the events of the last season. It's still unclear which actors will return, though MacLachlan is expected to reprise his central role as Cooper. David Lynch and Mark Frost are slated to write and produce the entire arc, with Lynch directing all nine episodes.
In a separate interview with Deadline, Frost explained that the idea for a third season came about in the most Twin Peaks way possible: over a series of casual meals (presumably involving black coffee and cherry pie).
"It was something I guess we had to leave alone for a while," Frost said. But "[we] found ourselves drifting back to that town, realizing that there were more things we wanted to know about it ... That was, I think, three years ago in August."
Frost refused to confirm whether Angelo Badalamenti's iconic score will reappear in the new season, but if there's any justice in the world, we can rest assured.
Why you should care: Simply put, Twin Peaks is a primary reason today's much-lauded "Golden Age of Television" even exists.
According to reports from Vox and Salon, the series' tonal darkness and twisting, unpredictable narrative paved the way for such celebrated modern cable dramas as The Sopranos, Mad Men and even Breaking Bad. Twin Peaks' use of dream sequences to plumb its characters' subconscious thoughts, for example, brought a unique psychology-driven angle to television where little had existed before, and to which characters from Tony Soprano to Don Draper owe a huge debt.
In the same manner, its dense, hypnotically self-contained mythology preceded the likes of Lost, The Killing and especially True Detective, whose long-form procedural structure and heavy use of symbolism pegs its entire existence to the legacy of Twin Peaks.
And even though Lynch and Frost let their show veer into incoherent silliness on more than one occasion (most famously in the middle of a bloated season two), the goodwill generated by its otherwise brilliant run more than compensates.
So grab a cup of coffee and pop on Netflix. If you're not already in the know, you've got a lot of catching up to do before 2016 rolls around.