What Happened to One Woman's Ashes Shows It's Time to Get Rid of the TSA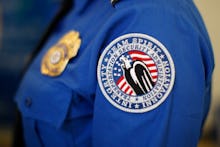 The news: Transportation Security Administration horror stories are nothing new. From rating passengers' bodies and racial profiling to wasteful management and sheer ineptitude, the beleaguered agency has been hit by scandals for years. Still, this one takes the cake for sheer absurdity and emotional trauma.
Last week, Cleveland's Fox affiliate reported that a local man is suing the TSA for an unbelievable incident: The destruction of his deceased mother's ashes.
In 2012, the man flew from Cleveland to Puerto Rico to spread his mother's ashes, as per her wishes. According to the lawsuit, he packed the urn tightly and properly, in accordance with TSA guidelines. But when he arrived in San Juan, he found that the ashes had spilled all over his suitcase and his belongings — with just a TSA inspection notice left as a form of explanation.
There is a strong argument for a case here. The lawsuit alleges that TSA's actions in this case "constitute intentional and/or negligent infliction of emotional distress," and it's easy to see why. TSA's own guidelines say that while "all urns are subject to screening and must pass through the x-ray machine ... under no circumstances will an officer open the container."
And the TSA's response has also been rather lacking. "We understand the emotional stress passengers may be under when transporting the remains of a loved one. Our guidelines for traveling with crematory remains is not intended to make this already emotionally difficult process more complex than needed," the agency wrote at the time.
"However, crematory remains are one of the many sensitive items that could be exploited by someone wanting to conceal a dangerous item," it added.
All these PR disasters add up to one thing: incompetence and mismanagement. It would be one thing if the trade-off for these snafus was guaranteed safety on U.S. flights — but that's not the case. The U.S. government itself admitted in an accountability report last year that the $1 billion TSA program is "no better than chance" when it comes to actually foiling terror threats.
When an expensive, invasive program like this doesn't even have a payoff, there really isn't any excuse for such horror stories.