Ted Cruz Has the Worst Response to the Supreme Court's Same-Sex Marriage Move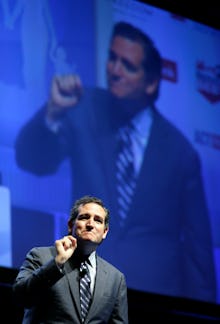 As marriage equality supporters cheer the Supreme Court's decision to clear the way for at least 11 states to legalize same-sex marriage, a handful of Republicans are hoping to move on. Sen. Ted Cruz (R-Texas) is not one of them, and he's fighting back angrily.
In a statement released Monday afternoon, Cruz called the court's move "astonishing" and "judicial activism at its worst."
"This is judicial activism at its worst. The Constitution entrusts state legislatures, elected by the People, to define marriage consistent with the values and mores of their citizens.  Unelected judges should not be imposing their policy preferences to subvert the considered judgments of democratically elected legislatures.
The prevailing irony here is that the justices chose this particular avenue — electing to not hear appeals to lower court rulings — to avoid an "activist" ruling, like one that might declare all gay marriage bans unconstitutional.
But Cruz persisted, in the process giving us a nice piece of insight into what his inevitable 2016 campaign will sound like, chock with stern legalese, dog-whistle appeals to "states' rights" activists and this logical pretzel-twist:
"Marriage is a question for the States. That is why I have introduced legislation, S. 2024, to protect the authority of state legislatures to define marriage. And that is why, when Congress returns to session, I will be introducing a constitutional amendment to prevent the federal government or the courts from attacking or striking down state marriage laws." 
To be clear: Cruz declares that "marriage is a question for the states," then reveals that he, a member of the federal government, would be putting forward a new federal amendment to guarantee that it remain unequal.
Alas, the Texas Republican isn't alone. Ralph Reed's Faith & Freedom Coalition authored an equally blistering response to the court, and a warning shot to those Republicans who hope to avoid a debate that's left them behind, saying that, "For candidates running in 2014 and those who run for president in 2016, there will be no avoiding this issue."
If this is the fight that social conservatives like Reed want to have, then it seems Cruz is ready to lead the charge.