The Quote That Might Have Sunk One Republican's Senate Campaign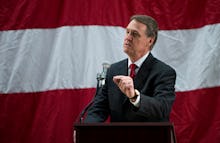 Bill Clark/Getty Images
Georgia Republican David Perdue has staked his unlikely Senate run to past successes leading big businesses like Reebok and Dollar General. But the self-proclaimed "job creator" ran into a bit of trouble this week when it was revealed those jobs weren't always being created in the United States.
Politico obtained the specifics, which Perdue discussed under oath in 2005 after a North Carolina-based textile company he'd been running collapsed and filed for bankruptcy:
During a July 2005 deposition ... Perdue spoke at length about his role in [his former company] Pillowtex's collapse, which led to the loss of more than 7,600 jobs. Perdue was asked about his "experience with outsourcing," and his response was blunt.
The story set off the expected volley of less-than-stirring attacks from Democrat Michelle Nunn, whose campaign declared Perdue's résumé to be lacking "the kind of experience we need in Washington." 
But Perdue, who leads the race by at least three points according recent polls, decided those smoldering embers of controversy could use a dollop of gasoline, so he went to a restaurant in Buckhead, shook some hands and had this exchange with a TV reporter:
The WSB-TV reporter asks Perdue how he "defends" his role in the outsourcing of jobs from Pillowtex, the failed textile company, prompting the candidate to answer, rhetorically, "Defend it? I'm proud of it. I mean, this is a part of American business, part of any business. Outsourcing is the procurement of products and services to help your business run. People do that all day." 
"Proud," but not quite proud enough, as the Atlanta Journal-Constitution first reported, to include his time there at Pillowtex in his official campaign bio.
Perdue is unlikely to cede any of his nominal lead in the polls because of this particular gaffe, but with four weeks until Election Day, he can't be happy spending his day discussing one inglorious chapter in an otherwise impressive corporate career.
h/t Huffington Post