The Utah Jazz Signed a 5-Year-Old for One Night of Glorious Dream-Making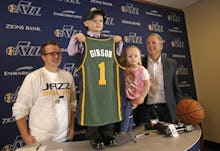 The NBA's Utah Jazz signed 5-year-old JP Gibson to a one-day contract Monday, right in time for time to suit up for that night's game. 
"We are a young team and we decided that we'd go even a little younger," Jazz President Randy Rigby said during a news conference shortly before that night's game. "JP Gibson is the newest member of the Utah Jazz team for the day."
Wait, what? Isn't 5 years old a bit on the young side? It sure is, but JP isn't your average kid: He's been battling acute lymphoblastic leukemia since 2012. The event was orchestrated by the Jazz and Millie's Princess Foundation, which "provides financial support and hope to families affected by childhood cancer."
Though the game was just an intrasquad scrimmage, it must have nevertheless been a thrill ride for JP, whose family had "no clue anything like this was going to happen. We just thought a little quick picture and (we'd) be done. The Jazz have been great at making this dream come true," Josh Gibson, JP's dad, told the Deseret News.
When it seems like all you're hearing out of the professional sports world are awful stories of spousal abuse, or child abuse, it's reassuring to know there are still amazing moments like this to be had.
Here's JP's news conference where Rigby announced he's joining the team:
And here's the magical moment when JP entered the game and went straight for the almighty slam jam:
Let's see that again:
The kid knows what he's doing.