Here's How Americans Go to Sleep, in Two Fascinating Maps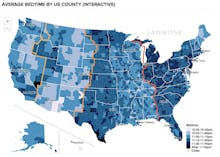 Is New York really the city that never sleeps? Is "early to bed, early to rise" a mantra any Americans follow? New data may reveal some interesting trends about how Americans sleep.
According to Jawbone data, Brooklyn stays up later than any other county in America, with an average bedtime of 12:07 a.m. On the other end of the spectrum, Maui and Kauai counties in Hawaii go to bed the earliest, at 10:31 p.m. and 10:33 p.m. respectively.
Interesting patterns begin to emerge in the Jawbone data. First, it looks likes New York really is the city that never sleeps: The counties that tend to stay up latest are all New York boroughs.
Brooklyn (Kings County): 12:07 a.m. Manhattan (New York County): 11:55 p.m. Queens (Queens County): 11:52 p.m. Bronx (Bronx County): 11:47 p.m. Staten Island (Richmond County): 11:46 p.m.
Followed by other party cities with great nightlife:
Miami (Miami-Dade County): 11:54 p.m. Atlantic City, New Jersey (Atlantic County): 11:53 p.m. Las Vegas (Clark County): 11:49 p.m. New Orleans (Orleans County): 11:47 p.m.
While some counties are going to sleep earlier than others, are they getting more sleep? Here's sleep data from across the country, also available in an interactive version.
The findings? People living in cities just don't get enough sleep, ever. "No major city in the United States averages above the NIH-recommended seven hours of sleep per night," writes Jawbone data scientist Tyler Nolan. "But it's only part of the picture. The vast majority of the suburban and rural counties have much healthier sleep numbers."
"Geography has a profound effect on the routines we follow and the habits we form," Nolan writes. "Our sleep cycles adapt to the pace and lifestyle of the world we live in and the world by which we are surrounded."