15 Books America's Most Successful People All Read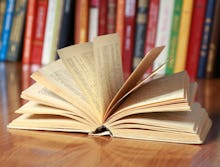 There's no one key to success, but many of the country's most successful people do have one thing in common: their taste in books. An education builds the foundation for good outcomes, and reading books is one way all people, with or without official schooling, can educate themselves.
Across all industries, from politicians, entrepreneurs, actors and more, here are some of the reads incredibly successful people can't live without. Shuffle them to the top of your reading list.
1. 'A Prayer for Owen Meany' by John Irving; Amy Poehler, Anderson Cooper, Andy Dunn
The likes of Amy Poehler, Anderson Cooper and entrepreneur Andy Dunn all love this classic American novel. The story, set in New England in the 1950s, follows a boy who believes himself to be God's instrument. Poehler loves it because for her, "Irving captures the innocence of youth, of people growing up together and figuring out who they want to be, and discovering the pain of separation." Cooper even admitted to bursting into tears at the end. 
2. 'The Innovator's Dilemma' by Clayton Christensen; Steve Jobs, Evan Williams, Malcolm Gladwell
Image Credit: Amazon
The Innovator's Dilemma was released in 1997, but still offers great insights for entrepreneurs or those simply wishing to understand current industry trends. Steve Jobs, Twitter's Evan Williams and the writer Malcolm Gladwell  have all called this book instrumental in developing their business philosophy. Gladwell said that six months after reading the book, he still hadn't stopped thinking about it. 
3. 'Lolita' by Vladimir Nabokov; Lena Dunham, Rashina Jones, Roxane Gay, Ben Stein
Image Credit: Amazon
Nabokov's 1955 signature novel is a favorite of Lena Dunham, Rashida Jones, Roxane Gay and Ben Stein. The controversial story follows an unreliable narrator, a 38-year-old professor who begins an affair with a 12-year-old. Jones praised it for "the most exquisite writing you can find." Gay said that while reading, she "stared down the ugliest parts of what people do to one another and saw the faint, unbearably compelling glimmer of humanity in that hideousness."
4. 'The Catcher in the Rye' by J.D. Salinger; James Nesbit, John Green, Josh Hucherson, Bill Gates, George W. Bush, Rosie O'Donnell
Image Credit: Amazon
This novel has fans across the board, from James "Bofur" Nesbit, John Green and Josh "Peeta" Hutcherson to Bill Gates, George W. Bush and Rosie O'Donnell. Themes of alienation, authenticity and coming of age are all central to the novel, and central to how these successful individuals understood their identity growing up. Gates considers the book very clever, because "it acknowledges that young people are a little confused, but can be smart about things and see things that adults don't really see." 
5. 'Harry Potter' by J.K. Rowling; Wayne Rooney, Jennifer Lawrence, Sheryl Sandberg
Image Credit: Amazon
Footballer Wayne Rooney, Jennifer Lawrence and Facebook's Sheryl Sandberg all list the Harry Potter series as one of their favorites. The books are a great feat of creativity, so there's no doubt that readers pick up on that energy. Lawrence claims to have read every book twice, and can't pick a favorite in the series. Sandberg said Rowling "made me look at jelly beans in a whole new way." 
6. 'Little Women' by Louisa May Alcott; Hillary Clinton, Roxane Gay, J.K. Rowling
Image Credit: Amazon
Hillary Clinton, Roxane Gay and J.K. Rowling all list Little Women among their favorite novels. Most of them remember it from childhood, when the book instilled in them the principles of feminist thinking.
7. 'Moby-Dick' by Herman Melville; Chevy Chase, Morgan Freeman, Barack Obama, Steve Jobs
Image Credit: Amazon
Moby-Dick is a favorite of Chevy Chase, Morgan Freeman, Barack Obama and Steve Jobs. The famously dense novel addresses themes of knowledge and fate applicable across all kinds of careers.
8. 'A Wrinkle in Time' by Madeleine L'Engle; Jeff Bezos, Sheryl Sandberg
Image Credit: Amazon
Business-minded entrepreneurs Jeff Bezos and Sheryl Sandberg both loved this fantastical, philosophical book in their childhoods. Sandberg told the New York Times, "I wanted to be Meg Murry, the admittedly geeky heroine of A Wrinkle in Time ... I loved how she worked with others to fight against an unjust system and how she fought to save her family against very long odds."
9. 'Their Eyes Were Watching God' by Zora Neale Hurston; Oprah Winfrey, Alice Walker
Image Credit: Amazon
Oprah Winfrey and novelist Alice Walker both name Their Eyes Were Watching God an instrumental book in the developing of their self-identity. It addresses the interplay of speech, silence and power within a racist society. Oprah considers it her "favorite love story of all time," and adapted it into a film starring Halle Berry.
10. 'I Know Why the Caged Bird Sings' by Maya Angelou; Bill Clinton, Toni Morrison, Oprah Winfrey
Image Credit: Amazon
This book tops both Bill Clinton's and Oprah's lists; Toni Morrison is also a big fan of Angelou. Since it was released in 1969, the novel has made a big impact on thought around racism, displacement and women's power, so forcefully that some of the most successful people across industries still credit it with their development. 
11. 'Sula' by Toni Morrison; John Green, Lena Dunham, Barack Obama, Michelle Obama
Image Credit: Amazon
John Green considers this book one of his favorite coming-of-age novels. Lena Dunham also rates the book highly because it "tackles what it's like to be a woman and not see yourself." Michelle and Barack Obama are also big fans of Morrison's work. The novel explores issues of personal choice and racism for young siblings who grow up into very different individuals. 
12. 'Charlie and the Chocolate Factory' by Roald Dahl; Francis Lawrence, Roxane Gay
Image Credit: Amazon
Director of The Hunger Games: Catching Fire Francis Lawrence calls this his favorite novel as a kid. The book also inspired Roxane Gay in her childhood because, as she said, it "made me believe anything was possible if I allowed myself to believe."
13. 'Behind the Beautiful Forevers' by Katherine Boo; Bill Gates, John Green, Junot Diaz, Oprah Winfrey
Image Credit: Amazon
Bill Gates and John Green have vocally advocated for this nonfiction work, which they say has informed how they approach their charity work in real life. Writer Junot Diaz found it "a book of extraordinary intelligence [and] humanity," while Oprah named it one of the best books of the year. The book focuses on day-to-day life in one of Mumbai's biggest slums, revealing great truths about human nature and the issues facing capitalism on a global scale. 
14. 'One Hundred Years of Solitude' by Gabriel Garcia Marquez; Rashida Jones, Bill Clinton
Image Credit: Amazon
Rashida Jones and Bill Clinton both love this novel's epic story, which encompasses many characters and an extensive plot. Pablo Neruda once called One Hundred Years of Solitude "the greatest revelation in the Spanish language since Don Quixote of Cervantes." The revelations certainly come forward in English as well; the book confronts issues of subjectivity, the inseparability of past and future and the power of reading, all with beautiful, rich language. 
15. 'The Great Gatsby' by F. Scott Fitzgerald; Bill Gates, Catherine Zeta-Jones, John Green
Image Credit: Amazon
Bill Gates ranks this novel as one of his favorites, and once you read Fitzgerald's takedown of capitalism and wealth, it becomes easy to understand why Gates has donated so much of his money to charity. He and his wife even once went to a costume party dressed as Gatsby and Daisy. Catherine Zeta-Jones and John Green also both highly recommend the classic, citing how its descriptive luxury contrasts with its portrayal of the hollowness of wealth and the American Dream.