These Maps of U.S. Cities Done in the Style of J.R.R. Tolkien Are a Nerd's Delight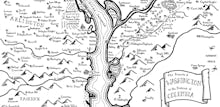 The news: The release of The Hobbit: The Battle of Five Armies might mark the end of director Peter Jackson's foray into Middle-earth, but the fantastical world of J.R.R. Tolkien is forever.
And while we may not be able to tread the elanor-strewn woods of Lothlórien or hike through the treacherous trails of the Misty Mountains, we can apply a bit of Middle-earth magic to our own humble abodes. To that end, cartographer and assistant geography professor Stentor Danielson has created incredible reimaginings of our cities in the fashion of Tolkien's legendary maps.
"I first read Lord of the Rings in third grade," Danielson told the Escapist. "I loved the maps in the front of the books, and that helped spark a general interest in maps."
1. "The Realm of Philadelphia in the Kingdom of Pennsylvania"
2. "The Realm of Cleveland and surrounding lands in the Kingdom of Ohio"
3. "The Domain of Washington in the District of Columbia"
4. "The Domain of Boston and surrounding lands in the Realm of Massachusetts"
All of the maps, as well as custom commission a Tolkien-ized maps of any other city, are available for purchase at Danielson's Etsy store.