Stark Infographics Show Just How Blindingly White and Male America's Elected Officials Are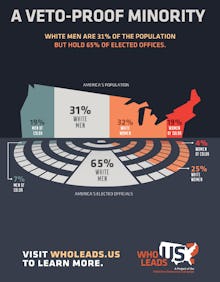 Reflective Democracy Campaign
White men make up just 31% of the American population, but hold 65% of public elected offices, according to a jarring new study released by the Reflective Democracy Campaign, a project of the Women Donors Network. Women, despite comprising more than half the population, fill only 29% of the 42,000 local, state and national offices surveyed.
The race ratio is even worse. Nine out of 10 elected officials are white, despite people of color accounting for more than 37% of the population. Women of color are hardest hit: They make up 19% of the population (about 62 million people), but hold a mere 4% of public offices. 
There is just one woman of color in the U.S. Senate today, and neither Democrats or Republicans have nominated a minority woman in any of this fall's 36 Senate races.
Check out these graphics from the study, courtesy of the WDN:
New York and Delaware share the statewide shame. They are the only two of 50 "to rank in the bottom 10 in the proportion of both women and minorities among elected officials," as noted by the New York Times.
On the plus side, "76% of voters – including 85% of Democrats and 57% of GOP voters – strongly support efforts that would address these challenges." 
Those voters cited three reasons for the vast gulf in their influence and their political standing: recruitment practices by the major political parties, a lack of access for women and people of color to political relationships and networks, and a lack of access for women and people of color to donor money.
The Washington Post recently cited a report that showed "black women raise an average $235,000 less than their black male counterparts when running for office."
The Women Donors Network says the results of their research prove that white men in America now constitute a "veto-proof minority," a grip on power that no longer reflects the country they are overwhelmingly put in a position to represent. The danger, as the authors note, was (and is) on full display in Ferguson, Missouri, where there is one black city councillor in a city that is 71% "nonwhite."
If the first step to fixing a problem comes by admitting it exists, then this study provides some encouraging news. Voters from both parties agree these numbers suck and that we need to do something to change course. The bad news: People in power are not, historically, inclined to pass laws or escalate a debate over how to kick them out. So don't expect any help from today's elected leaders. 
Correction: Oct. 10, 2014 An earlier version of this article claimed there are no women of color in the Senate. In fact, Sen. Mazie Hirono of Hawaii, a Democrat from Hawaii, has been there since 2013.