Indiana Cop Allegedly Pulls Woman Over to Give Her the Word of Christ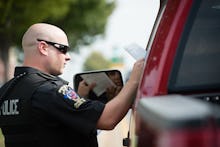 What would you do if a cop pulled you over, wrote you a warning ticket and began preaching the good word of the Lord Jesus Christ?
That's what Indiana woman Ellen Bogan claims happened to her on Aug. 9, when state Trooper Brian Hamilton pulled her over for an illegal pass she says she didn't commit and subsequently badgered her on her religious beliefs and presented her with evangelical Christian materials. Wonkette reported that Bogan is now suing Hamilton "in his individual capacity" as a state trooper for violating her First and Fourth Amendment rights.
Though the traffic stop had been completed and Bogan let off with a warning ticket, the complaint says that the trooper "remained at her window talking to her with his police care [sic] behind her car with its lights flashing." Bogan alleges that the trooper repeatedly inquired if he could ask her about personal matters, a request that Bogan felt she could not refuse given the circumstances.
Eventually, the complaint says, Hamilton "then asked her if she had a home church and then asked if she had accepted Jesus Christ as her savior." Bogan felt pressured to say yes, and was given an evangelical pamphlet. Here's part of that pamphlet, which prominently features First Baptist Church's Pastor Dan Jones, another state trooper who proudly declares that he is "Policing For Jesus" every Sunday on the radio.
Other parts of the pamphlet advise that everyone is a sinner and the "penalty of sin" without salvation is "death" and "the lake of fire."
Bogan's calling bogus: In a Facebook post after the incident, Bogan wrote "You can love Jesus, just don't want state patrol pulling me over to recruit. Extreme religion fanatics make me nervous! A state patrol using his authority is extreme, illegal and is going to cost him. Separation of church and state?" The Daily Banter's Tommy Christopher noted she made another denigrating comparison: "Sickening sweet, had the music from Deliverance playing in my head. What if he was preaching Muslim or atheism or extreme anything?"
Wonkette's Kaili Joy Gray wrote that Trooper Hamilton probably thought that by giving her a warning and helping to save her soul he was being a "really nice guy." But that's exactly why, if Bogan's complaint is accurate, he should no longer be a police officer: It shows a terrible lack of judgment. He was using the power of his office to push religion on a woman at a traffic stop, while carrying a gun and with his squad car's lights blazing. That could be described as misconduct at best or, at worst, as using intimidating tactics to push religion, as Bogan seems to think it was. 
As Bogan also smartly pointed out, it really doesn't matter whether a cop is pushing his or her personal beliefs of Christianity, Judaism, Islam, Buddhism or any other religion or lack thereof. Even a conservative separation of church and state surely protects citizens from traffic stops featuring an unwelcome lecture on how they're going to hell.