The Dallas Ebola Patient Has Died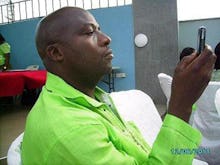 The first person to be diagnosed with Ebola in the U.S. has died.
Thomas Eric Duncan, the 42-year-old Liberian man who recently traveled from West Africa to Dallas, had been in isolation at Texas Health Presbyterian Hospital in Dallas since Sept. 28.
It is with profound sadness and heartfelt disappointment that we must inform you of the death of Thomas Eric Duncan this morning at 7:51 am. Mr. Duncan succumbed to an insidious disease, Ebola. He fought courageously in this battle. Our professionals, the doctors and nurses in the unit, as well as the entire Texas Health Presbyterian Hospital Dallas community, are also grieving his passing. We have offered the family our support and condolences at this difficult time.
It wasn't unclear exactly how body, "which could remain contagious for several days," will be handled by hospital officials, reports Yahoo News' Jason Sickle: "Guidelines from the Centers for Disease Control and Prevention call for the remains to be immediately shrouded in plastic and double-bagged in leak-proof bags at the hospital, then promptly cremated or buried in an airtight casket."
Over the weekend, Duncan had begun receiving brincidofovir, an experimental antiviral drug which recently gained emergency approval from the FDA.
The news of his death comes as the Department of Homeland Security ordered agents at airports and other ports of entry to observe everyone coming into the U.S. for potential signs of Ebola infection.