Now This Is How You Handle a Football Sex Scandal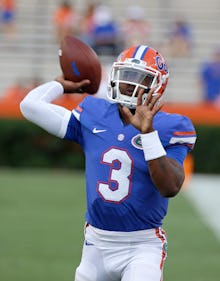 On Monday, Florida quarterback Treon Harris was suspended indefinitely from all team activities after being accused of sexual assault. The alleged incident took place in a campus residence hall at 3 a.m. on Sunday, hours after the freshman came off the bench to lead Florida to a comeback win over Tennessee in Knoxville.
"We have no tolerance for sexual assault on our campus," University of Florida president Bernie Machen said in the school's official statement. "The university is committed to providing a safe and inclusive environment for every member of the UF community. We must strive to protect all of our students from sexual harassment and assault, and do everything in our power to promote a safe learning environment."
Harris, who has enlisted high-profile defense attorney Huntley Johnson, deserves the presumption of innocence under the law. But Florida's zero-tolerance approach stands in contrast with Florida State's handling of Jameis Winston, the Seminoles quarterback who was accused of rape in 2012. The claim was not made public for months; Winston won the Heisman Trophy and led FSU to a national championship. Only later did a blockbuster New York Times story lay bare a flawed investigation.
The school said a joint investigation between the University of Florida Police Department and the Gainesville Police Department involving the collection and analysis of forensic evidence is ongoing. The release of a police report due Wednesday has been postponed, the school's police department said.
Last month, President Obama announced the launch of the sexual assault prevention campaign "It's on Us" with the support of student leaders from 200 colleges and universities. Among the catalysts for the campaign was the White House's alarming research that 1 in 5 female college students will be a victim of rape.
The university crime log lists a report of sexual battery, which suggests the charges facing Harris are more serious than initially reported.
"I think suspending [ from athletic activities makes a statement to the larger community that sexual assault is not tolerated and there will be serious consequences," Jessie Lazarchik, community education project coordinator at the Alachua County Victim Services and Rape Crisis Center, told the New York Times.
Mike Bianchi of the Orlando Sentinel went as far as to say Harrison should never play for the Gators again whether he's charged with a crime or not, laying out the case in a powerful editorial:
"In today's toxic climate, with the questionable way FSU handled Winston and the inexcusable way the NFL handled Ray Rice, the Gators will now take their place underneath an intense national microscope. This is their chance to show that they stand for something more, something other than wins and losses.
That may seem harsh, but at a time where colleges and universities across the nation have come under fire for anemic responses to on-campus sexual violence, Florida deserves praise for their quick action.