Democrats Want Nothing to Do With the President Until After November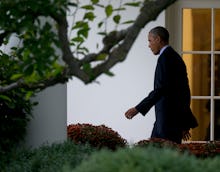 With midterm elections less than a month away, Democrats are very worried about poll numbers that indicate Republicans are on the verge of taking control of the Senate.
With seats in Montana, South Dakota, West Virginia, Arkansas and Louisiana all at risk and close battles in Alaska, Colorado and Iowa, nervous Democrats have largely avoided public appearances with a previously popular figure who now finds himself mired in low approval ratings: President Obama. 
The conventional wisdom says Obama's unpopularity makes him a major burden, and Democrats are asking him to sit the bench this campaign season.
The New York Times reports that the cold shoulders haven't only come from conservative Democrats like Arkansas Sen. Mark Pryor, but also those from states that swept Obama into office in 2008:
 ... For now [Obama] has been reduced to something else: an isolated political figure who is viewed as a liability to Democrats in the very states where voters by the thousands had once stood to cheer him.
Democratic allies — even former members of the Obama administration — are pretty blunt:
However, Democratic candidates are relying on the president for one thing: fund-raising. Obama's still-formidable financial prowess is a boon for cash-strapped Democrats, and fund-raising events come with the added benefit of taking place behind closed doors. He can glad-hand with donors out of the public eye, and avoid photos with candidates that might show up in opponents' TV ads.
Democrats would prefer that the president kept his distance, focusing the rest of his pre-election time on building a case for how his administration has repaired the American economy (pointing to a six-year low in unemployment) and laying out a plan for the next two years. For the most part, they'd prefer that case is built anywhere the candidates are not.
Obama's popularity is hovering at around 43%, which Gawker's Jason Parham calls "not truly terrible, but below average for U.S. presidents." Meanwhile, Bloomberg Politics reports that Republican candidates have run "well-funded, on-message campaigns" that have many Democrats pushing "to make each race state-specific." That means side-stepping potentially damaging distractions and pressuring the president not to rock the boat. For example, congressional Democrats were successful in getting the president to delay controversial executive orders on immigration until after November.
While Democrats are busy playing defense, some experts think that more or less pretending Obama doesn't exist until mid-November could backfire for candidates in races where boosting Democratic turnout could make the difference between victory and defeat. West Virginia University political science professor Neil Berch told U.S. News & World Report that the state's Democratic candidate for Senate, Natalie Tennant, has made the president "more of a drag on her than he needed to be." 
It's pretty disappointing to see Democrats once again on the run, when, had they aggressively defended the administration this whole time, they could have laid an effective case for the party's leadership. As it stands, they've done a poor job of rekindling the spirit of the past two presidential elections, in which Obama emerged with solid leads over his opponents by providing clear alternatives to Republican leadership.