7 Things White People Definitely Didn't Discover But Get Credit for Anyway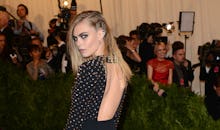 Christopher Columbus: Adventurer. Explorer. Holiday namesake. White guy.
Since 1937, Americans and calendar-makers have hailed the mix of sea adventure and genocide that make up this man's accomplishments. Despite all manner of protests, we still celebrate that fateful day in 1492 when Columbus "discovered" a body of land already occupied by millions of people and promptly initiated their destruction.
It's dubious, to say the least. And its legacy lives on through more than just the centuries of violence that followed.
In fact, generations of white folks have profited from the privilege conferred by Columbus' conquest. Part of that includes getting credit for, or being popularly associated with, trends, places and activities they didn't actually invent or discover.
College Humor produced a humorous take on the subject with their video on "Columbusing," the art of white people "discovering" things on behalf of other white people that others already knew about, and then taking credit for them:
But why stop there? In the spirit of reclaiming Columbus Day for the people, here are seven other things white people didn't actually discover or create, but still get props for anyway:
1. Cornrows
You may recognize this "bold" and "epic" new style trend from when Kendall Jenner rocked it back in April.
A few months later, the Los Angeles Times penned a tribute to some equally "chic" and "edgy" cornrow pioneers. "Move over, Bo Derek," Ingrid Schmidt wrote. "Far from the bead-bedecked cornrows and plaits the actress wore in the 1979 film "10," cornrows with a punk vibe have shown up recently on model Cara Delevingne, singer Rita Ora and actress Kristen Stewart, as well as on the Alexander McQueen, DKNY and Marchesa runways."
Imagine the uproar when it was revealed that black people had been wearing their hair like this since before white people "discovered" Africa.
2. Lacrosse
Wellington Stanwick. Headley VanMeter. Halston Jet Harding. Hambleton Sonnenfeld.
These are the types of names commonly associated with lacrosse, the game that revered publication BroBible one dubbed "the whitest sport in a world where hockey, horseback riding and cricket are actual things. It couldn't be any whiter."
The "lax bro" is such a staple of WASP douchebaggery that it's easy forget people of color invented the sport. That's right: The true lacrosse originators were the Algonquian Natives Americans of the St. Lawrence Valley region of the American northeast.
3. The Harlem Shake
In the span of a few (trillion) YouTube videos, white people managed to decisively commandeer the Harlem Shake, one of the quintessential black America dances of the past few decades. How's that working out?
Here's before:
Here's after:
4. Yoga
The spiritual commune of holy people in India has become the workout of choice for raw vegans, soccer moms and everybody Werner Herzog hates.
Although it has now reached peak mainstream popularity, Hindus haven't forgotten the practice's pre-colonial roots. "Yoga is really a spiritual discipline,"  Uma Mysorekar, the Hindu Temple Society of North America's president, told CNN. "From its origin in Hinduism, yoga really originated from a Sanskrit word yuj, which means union."
 Meanwhile, artist Chiraag Bhakta has a new art installation in San Francisco entitled, "#whitepeopledoingyoga" examining what Bhakta calls the white-washing of yoga in the Bay Area.
Thanks, white people.
5. "Rap"
Enough said?
Maybe not. From Kurtis blow to the Sugarhill Gang to Tupac and Grandmaster Flash, the birth of rap music in America is intrinsically tied to its African American forefathers.  
When a genre created by black and Latino artists sees someone named "Macklemore" become its top Grammy-winning act, there's a problem. Even he thinks so:
6. Jesus
#Columbusing 101: Transforming a guy who ostensibly hailed from the brownest region this side of Bolivia into this.
While "the mainstreaming of a white Jesus began in earnest during the early Middle Ages in Europe, a time and place where darkness had a powerfully negative connotation," according to Newsweek, modern pop culture has continued the tradition with gusto. In the past few decades, some of the most famous Hollywood Jesus's have been played by undeniably light-skinned actors like Willem Dafoe and Jim Caviezel. 
America may have reached peak white-washing cluelessness however during this segment of Fox News last year hosted by Megyn Kelly. Responding to a piece in Slate by Aisha Harris, Kelly flatly rejected the possibility that the Christian icon might have looked differently.
"Just because it makes you feel uncomfortable doesn't mean it has to change," Kelly said. "Jesus was a white man, too. It's like we have, he's a historical figure that's a verifiable fact, as is Santa, I just want kids to know that."
7. America
The granddaddy of them all, North America was home to millions of indigenous people before Europeans showed up and killed most of them. To add insult to injury, the invaders claimed to have "discovered" the place, set up their own governments and violently herded the original residents onto reservations, which they then turned into some of the most economically depressed regions of the country.
It's a depressing story. But in terms of actually celebrating this problematic holiday, a growing number of cities and U.S. states are pushing back against it.
The latest example is Seattle, whose City Council passed a resolution Monday declaring Columbus Day "Indigenous People's Day." The move was intended to recognize those whom the explorer and his kind brutalized, and follows a precedent set by places like Berkeley, Calif., in 1992. Minneapolis made a similar decision in April.
But whether you celebrate Columbus Day, Indigenous People's Day or "Who Cares, I Get the Day Off" Day, it's important to recognize what legacy you're supporting when you make that choice.