It's Official: An All-Female Reboot of 'Ghostbusters' Is in the Works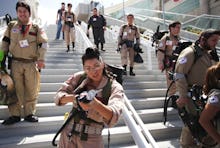 Somewhere, Bill Murray is smiling. 
Director Paul Feig confirmed on Wednesday that the long-awaited sequel to Ghostbusters is finally happening — and it's going to feature a female-led squad. 
The project has been the subject of frequent rumors for months. In August, Variety reported that Feig was in talks to helm the reboot, though details of the plot, cast and script were still under wraps. In September, Bill Murray, one of the stars of the original film, declared his support for a lady-helmed Ghostbusters. 
"It sounds great to me. It sounds as good an idea as any other! There are a lot of women that could scare off any kind of vapor!" Murray told Access Hollywood. "No, it's a grand idea, I don't know who they're talking about, but it's a good idea, I would watch it!"
Feig is the perfect director. He's the mind behind Bridesmaids and The Heat, both of which feature hilarious women in lead roles. According to his tweet, Feig will be teaming up with Katie Dippold, the writer behind The Heat. 
There's no word on the cast yet, though given that Feig has worked with Melissa McCarthy twice before (she also received a ringing endorsement from Bill Murray), we might just see her in the reboot. Other names that have been floated include Emma Stone and Kristin Wiig. 
As the Verge points out, the Ghostbusters reboot has been stuck in sequel purgatory for the last two decades, so Feig and Dippold's timing couldn't be better. The fact that it's going to star what's sure to be a fantastic cast of hilarious women — despite the naysayers — is the cherry on top. 
h/t Slate