5 Instagram Feeds Beautifully Capture Everyday Life Around the World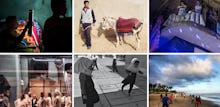 Whether it's Gaza in ruins, the black flags of ISIS over Iraqi towns or the severe drought in California, we're inundated with images showing the absolute worst or best of different places around the world. But there's a quiet movement gaining plenty momentum and thousands of followers on Instagram, all by simply avoiding the types of images you'd usually find on most newspapers' front pages.
Cue the Everyday feeds, a collection of professional and amateur photographers documenting daily lives around the world through Instagram.
"There is a gap that needs to be filled in conventional media coverage," documentary photographer Peter DiCampo, cofounder of the first Everyday feed, Everyday Africa, told Mic. DiCampo and writer Austin Merrill were on assignment in Sierra Leone in March 2012 when they first discussed the idea.  
"The extremes are covered, and we don't realize that every day, life takes place," DiCampo said. Instagram, rather than Facebook or other platform, was a perfect medium for the evolving project. 
"As more and more people became involved, the importance of Instagram's stream morphed and we began shooting a little differently," said DiCampo. Everyday photographers post in real time (wireless access permitting), and there's also the occasional #latergram. 
These five Everyday accounts are a refreshing break from the extremes of daily news coverage.
When DiCampo and Merrill created the Everyday Africa feed, they never anticipated that it would catch on. Their format has inspired more Everyday glimpses into places such as Asia, Latin America, the U.S., Egypt and Jamaica, all created by users around the world.
For Everyday USA, select documentary photographers spotlight under-reported issues and places around the country. Jon Lowenstein documents daily lives surrounded by gun violence in Chicago, while Matt Black gives a viewer an intimate tour in California's drought-stricken Central Valley. 
"We had an idea in mind that if you show daily life in all of its forms, you begin to transcend the stereotypical imagery of a continent or each country," DiCampo said.
There's the subway commute in India to which every person in a major metropolitan area with public transportation could give a sympathetic sigh:
In Iran, girls play hopscotch in their schoolyard, while in Ghana, young fishermen use their boat paddles as goal posts for a game of soccer.
The Everyday movement has taken a tip from emerging hyper-topical websites, such as Syria Deeply or Ebola Deeply, with its sharp focus on complex issues. It's also quietly democratizing our experience of consuming and making photographs, which is something everyone can get behind.