'The Voice' Isn't Really About Singing At All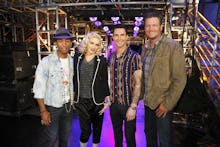 Last week, NBC's The Voice announced that country-turned-pop singer Taylor Swift would be an advisor for an episode on the show with an eye towards a potential judge's seat sometime in the future. Much like the show's coaches Adam Levine, Blake Shelton and Gwen Stefani (Christina Aguilera's replacement), Swift is a big get for NBC's hit show; yet another relevant star who's agreed to build her brand on network television.
But all the excitement over her addition just reveals one dark truth about the show. Try naming a single Voice contestant — just one. Stumped? Thought so.
Since American Idol debuted in 2002, we've been in a golden age of singing competitions. The show was a star-making machine based on merit and the passionate advocacy of its fans. Some mocked its poppiness, but its success was proof of its efficacy: American Idol could launch a real, flesh-and-blood pop music star. American Idol's Carrie Underwood was the girl who grew up on a farm and was completely floored to be given the chance to sing her way to fame in 2005. The audience saw her confidence grow, voted for her, and she's still putting out albums and going on tour. Similar trajectories captured imaginations across the world as singing competition graduates like One Direction, Susan Boyle, Cher Lloyd, Jennifer Hudson and Kelly Clarkson carved their paths to music stardom.
But that isn't remotely the case with The Voice. Those stories are why these shows matter. But The Voice, which has the kind of prominence now that American Idol had earlier in the millennium, cares little for them. Its contestants are barely a focus of the show and after the show they tend to disappear. The format of the show privileges the coaches — the series is theirs to win; the stars, theirs to mold. And unlike the singers on American Idol and the X Factor, no Voice contestants have risen to any sort of genuine musical significance.
For example, season one winner Javier Colon took home the first-place prize of $100,000 and a record deal with Universal Music Group, but his career as a musician didn't quite take off after that.
"I went in with high hopes, as I believe everyone did. But when you pour your heart and soul into a new album that you think is really great, and your label who is supposed to support, market and promote your music does neither, it's really hard not to be upset," he told Buddy TV.
Winners of later seasons Cassadee Pope and Danielle Bradbery seemed to have been doing a bit better (each touring with country singers and having reasonably successful singles), but a simple Google search for the contestants turns up with one too many "Where Are They Now?" articles and too few actual artist profiles.
But if the contestants' careers didn't quite take off, the judges' did. As Billboard noted in its cover story, "'The Voice' Hasn't Created an Actual Star — But Is Making Bigger Stars of Its Judges," Levine and his band, Maroon 5, were in a bit of a slump after release of their second album, It Won't Be Soon Before Long, in 2007. Levine himself wasn't as much of a pop/rock heartthrob and source of Hollywood gossip as he is now. When he and Aguilera used the show to debut their single, "Moves Like Jagger" in 2011, though, the move not only catapulted the song to the top of the charts worldwide (one of the best-selling digital singles of all time) but led Maroon 5 to sell a No. 2 album (named, unironically, Overexposed) on the Billboard 200. And now the band's most recent album, V, is already performing very well — creepy video and all.
All the coaches benefit. Shelton's Based on a True Story…, debuted at No. 3 on the Billboard 200 (released during the show's fourth season) and, according to Billboard, "the day after pop duo A Great Big World rereleased its track 'Say Something' with Aguilera joining on vocals, they all performed it on The Voice. Sales of the song shot up by 1,761 percent by the end of the week."
Though some may argue that judges on other shows like Simon Cowell and Paula Abdul were fixtures on their programs, they weren't performing or looking to outshine the contestants in quite the same way. They seemed just to want to give (sometimes brutal) critiques. Cowell's career since his stint on Idol is telling — he's devoted it to building new stars, like One Direction. During most competitive singing shows, the lights dim on the judges when the singer performs. On The Voice, the cameras pan to the judges to gauge their moods or maybe catch a snarky comment exchanged between judges. Or a really sleazy wink:
That's what's made The Voice a success: We get to watch famous people be charming and famous. But that's never been the point of these shows. Silly as it seems, singing competitions' most compelling quality used to be the chance they offered to watch real people chase their dreams — to know that they were part of an apparatus that could make them come true.
Now, it seems like viewers want to see celebrities under a microscope, whether they're strutting on Dancing With The Stars, playing trivia games on Celebrity Game Night or coaching on The Voice. So Taylor Swift made a good decision by jumping on the show shortly before releasing 1989. But when she makes it to the top of the charts again, it'll be taking a slot from somebody you haven't heard yet; somebody who wants it just as bad, or worse, and who American audiences should have the chance to love, too.