New Research Debunks One of the Most Common Stereotypes About Teens Who Sext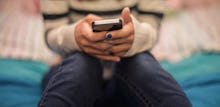 The news: The recent celebrity photo leaks have sparked a conversation around privacy and stigma of sexting. Using the age-old logic of victim-blaming, people have criticized these celebrities for taking nude pictures in the first place — despite the fact that it's a pretty common practice nowadays.
According to a new study published in the journal Pediatrics, researchers at University of Texas Medical Branch at Galveston found that not only is sexting normal among teens, but, contrary to popular thinking, there's no link to an increase in risky sexual behavior.
For the six-year study, around 1,000 teen participants were asked to complete periodic, anonymous surveys about sexting, with 1 in 4 teens admitting to sending or asking for sexually explicit pictures. And while those who sent nude photos in the previous year were more likely to become sexually active, the researchers did not find that one caused the other.
"We now know that teen sexting is fairly common," Jeff Temple, a psychologist involved in the study, said in the university release. "Sexting is not associated with either good or poor mental well-being."
And really, exchanging dirty correspondence is not a new phenomenon. As Temple pointed out, "this behavior isn't always new, it's just a new medium." Just take a look at some of the intensely pornographic letters that James Joyce and his wife Nora Barnacle sent each other, and you know that if the Irish author were around in modern times, he would be totally down for dick pics.
In all seriousness, there are legitimate concerns about the practice of sexting, such as violation of privacy and how nude pictures can be shared without the participant's knowledge or consent. But these issues cannot be addressed if we're not willing to have a frank discussion about them. And acting as though sexting is a deviant practice, or that the victims of privacy violation are somehow responsible for what happened to them, is not going to help us find a solution.