The White House Covered Up Multiple Secret Service Scandals, Documents Allege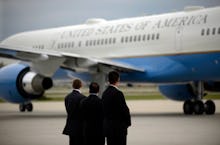 The news: Remember when the Secret Service got caught partying with prostitutes in Colombia in 2012, and the White House denied that any staffers were involved with any inappropriate conduct? It turns out the misconduct might have extended to the White House after all.
According to the Washington Post, White House staff discovered that 25-year-old presidential advance team volunteer Jonathan Dach — whose father Leslie Dach donated just short of $24,000 to the Obama campaign in 2008 — also likely hired a prostitute during his stay in Cartagena, and yet the incident "was never thoroughly investigated or publicly acknowledged." 
What happened: Investigators from two agencies as well as the Washington Post confirmed that Dach appeared to have brought a woman to his hotel room late at night.
Many hotels in Colombia, for security reasons, maintain detailed records of additional overnight visitors. At the Hilton, prostitutes are required to show identification to ensure they are not underage. That identification is photocopied by the hotel and stored with the records of the guest staying in the room.
Dach insists he never met said woman or slept with her. Leslie Dach is now a senior manager for the Department of Health and Human Services.
The Secret Service team shared its findings several times with high-ranking White House officials, including Counsel Kathryn Ruemmler, who concluded Dach had done nothing wrong after conducting an interview with him. Investigators who served on the separate DHS investigation, which was created by the Senate, reported that they felt pressure from their superiors to withhold potentially embarrassing information until after the 2012 election.
While volunteers like Dach received a stipend and are told they are "mini-ambassadors" on behalf of the White House, senior officials apparently decided he was too small a fish to fry:
One senior administration official, who spoke on the condition of anonymity to discuss sensitive information, said Ruemmler believed it would be a "real scandal" if she had sent "a team of people to Colombia to investigate a volunteer over something that's not a criminal act. .?.?. That would be insane."
Here's where it gets even hairier: Three DHS employees involved in the investigation say they were put on administrative leave in retaliation for their refusal to drop the issue. Charles K. Edwards, then the acting inspector general, said Dach's omission from their final review was part of the normal editing process and fell outside the DHS' jurisdiction, but Edwards later resigned during an investigation into whether he had improperly delayed or altered the course of investigations with the potential to embarrass the White House.
Ten Secret Service agents were fired for partying in Colombia, and apparently members of President Barack Obama's detail were furious about the radically different treatment they and Dach received in the aftermath of the incident. To some extent, boo hoo — Dach's alleged violation of decorum doesn't necessarily call into question the judgment or competence of key personnel standing between Obama and a premature demise. And it's important to remember that many of the people who spoke to the Washington Post could have an axe to grind, like two members of former Sen. Joseph Lieberman's staff.
But, if true, the incident also explains some of the backstory as to why White House-Secret Service relations are so tense right now — and shows that White House personnel might have tried to deflect the investigation because it could prove embarrassing. Julia Pierson has already resigned as director of the Secret Service following a series of security lapses, including an incident in September in which an intruder was able to reach the East Room of the White House.