Aretha Franklin Just Accomplished Something No Other Female Singer Ever Has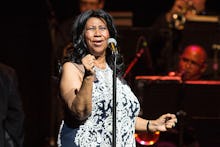 Soul queen Aretha Franklin became the first woman to ever break 100 entries on the Billboard Hot R&B/Rap charts Wednesday, with her cover of Adele's "Rolling In The Deep" putting the latest jewel in her crown.
Franklin has been soul royalty for years, but Wednesday's feat took her prominence to new heights. Covers have always an area where Franklin shines. Throughout her career, she has consistently done the seemingly impossible, transforming already-beloved songs from celebrated artists into completely new and equally incredible masterpieces. Many of the songs we now attribute to her originated with other artists. Speaking about her upcoming record, music industry legend Clive Davis, aka The Man with the Golden Ears, reminded us that "Respect" was originally an Otis Redding song. But with Franklin's magnetic personality and sass, and that genius "R-E-S-P-E-C-T" hook, "she made it her own."
She's done the exact same with "Rolling in the Deep (The Aretha Version)," and will do it again with hits by Whitney Houston, Alicia Keys and Destiny's Child when her upcoming album, Aretha Franklin Sings The Great Diva Classics, drops on Oct. 21.
Franklin's career has been marked by so many historic moments that it's hard to give a satisfying overview in fewer than 1,000 pages. She's moved crowds to tears at some of history's most significant events, performing at Martin Luther King Jr.'s funeral in 1968 and Obama's presidential inauguration in 2009. The version of "Amazing Grace" she sang and first performed at Mahalia Jackson's funeral in 1972 remains one of the highest-selling gospel recordings to this day. She upstaged some of the greatest soul singers, such as James Brown, Ray Charles and Cab Calloway, with her appearance in Blues Brothers, and is the one of the only artists to not make a complete fool of herself with her subsequent appearance in Blues Brothers 2000.
The list of achievements and artists she's inspired goes on and on. It's only fitting, then, that we finally have a single, all-encompassing achievement to summarize Franklin's contributions to musical culture: an unequaled 100 hits on the Billboard R&B chart.
h/t Billboard