How Young People Really Feel About Race, Money, Weed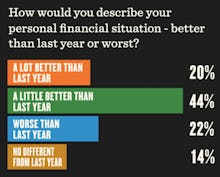 Fusion
With this November's midterm elections now just 26 days away, the good folks at Fusion released the results of their poll of more than a thousand "likely Millennial voters." It's a wide-ranging survey that asked about everything from college debt to militarizing civilian police forces. 
Here are some of the most interesting findings, with charts courtesy of Fusion:
Young Americans are more optimistic about the economy than their parents.
Gallup's latest report shows that 56% of all Americans think the economy is "getting worse," while only 40% see it improving, essentially unchanged from this time last year. Millennials, though, see their situation improving, with 64% reporting to Fusion that they are better-off today than 12 months ago.
More than 8 in 10 Millennials support medical marijuana legalization.
Support for legalizing medical marijuana cuts across party lines. Nearly 90% of young Democrats support access to medicinal pot. Of the Republicans polled, 75% gave their backing. The numbers diverged a bit more when Fusion asked about "medicinal and recreational use," with 55% of Democrats in favor but only 35% of Republicans on board:
Everyone agrees: Local police don't need assault weapons.
Though white respondents generally took a brighter view of their neighborhood law enforcement, there was across-the-board agreement that "military grade weapons are unnecessary for the police." (Note: This poll was conducted in mid-September, about a month after the height of the protests in Ferguson, Missouri.)
There is, however, a significant (and not surprising) divide on the subject of personal interaction with cops. While 66% of whites say they "trust police officers to treat [them] and [their] friends fairly," that number fell to just 49% for blacks and 57% for Hispanics.
No potential Republican candidate is winning with young voters.  
On the Democratic side, Hillary Clinton is stomping all the would-be (but probably never-will-be) contenders, with 58% declaring their support for her potential campaign. Vice President Joe Biden came in second, at a far-off 13%.
Surging ahead in the Republican race? None other than "Don't Know/Didn't Answer."
Young Americans don't trust anyone to keep their personal information secure. 
When Apple includes a promise to stop helping cops access your phone and tablet information in its core iPhone sales pitch, as it did with the 6 and 6 Plus, you know privacy has become a big concern. So who do Millennials believe is looking out for their privacy?
This poll suggests ... well, no one:
What It All Means
As this poll shows, Millennials have more in common with their parents and older friends than you might expect. The economy, combined with debt and spending concerns, is by a significant margin —  49% for Republicans, 40% for Democrats — the most important issue in their lives. 
But some old divides persist, with more than 1 in 5 young Republicans calling "terrorism and national security their top concern." Just 12% of Democrats agreed. On the flip side, "education" was the most important issue for 17% of Democrats but only 6% of Republicans.
Young voters begin to break away when lifestyle and social issues enter the discussion. Across the political spectrum, they are increasingly supportive of ending marijuana prohibition. They do not want to see uniformed police officers playing soldier, pointing assault weapons at them from perches on armored vehicles. Of the Republicans polled, just 6% cited support of "traditional values" as their reason for leaning right. And they all love Facebook: black, white, and Hispanic respondents use the social network.
Want more?
For all the results from Fusion's impressively wide-ranging poll, click here.