This Shocking High School Football Scandal Is Everything Wrong With Hazing Culture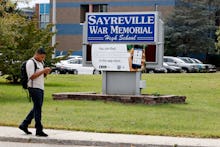 A high school football powerhouse in New Jersey canceled the remainder of its season Monday as police and prosecutors investigated a report of hazing within the program.
Sayreville War Memorial High School, whose storied football program won state championships in 2009, '10 and '12, has become the epicenter for a discussion on bullying as reports of lewd acts with sexual overtones have made national headlines.
According to one parent's allegations told to the the Star-Ledger, freshman players were held down to the locker room floor by multiple upperclassmen while a finger was forced into the victim's rectum. The same finger would sometimes be forced into the victim's mouth. Another parent said underclassmen players would "stampede" to the locker room after practices to get dressed before the senior players entered.
"There was enough evidence to substantiate there were incidents of harassment, intimidation and bullying that took place on a pervasive level, on a wide-scale level, and at a level in which the players knew, tolerated and in general accepted," Superintendent Richard Labbe said Monday night.
Hazing is deeply embedded in the culture of high school and collegiate athletics — from soccer to lacrosse to ice hockey to rugby to cheerleading. An Alfred University study found that 80% of college athletes had been hazed. Nowhere is this culture more pervasive than in the hyper-masculine world of football.
But what happened in Sayreville is more than hazing or bullying. It is sexual assault.
And while none of the students involved have been suspended to date, a criminal investigation by the Middlesex County Prosecutor is ongoing. 
While authorities deserve praise for the decisive action of shutting down the football program — the sort of zero-tolerance action necessary, at least theoretically, to bring about real change — the Sayreville scandal brings to light just how deep the problem runs.
Instances of harassment, intimidation and bullying are down 36 percent in New Jersey, according to the state's Department of Education. But Stuart Green, director of the New Jersey Coalition for Bullying Awareness and Prevention, told the Asbury Park Press that those figures, which are self-reported by the school districts, are so underreported they're "essentially fake."
Last year, the topic was given a national spotlight when Miami Dolphins offensive lineman Richie Incognito was branded a bully and a racist when reports of his harassment of teammate Jonathan Martin were made public. The monthslong coverage devoted to the saga might have suggested a tipping point for the issue in America, but the Sayreville scandal lays bare just how difficult it is to effect cultural change.
Green said the biggest problem is that "bullying and harassment ... are often treated as individual instances instead of potential systemic problems."
Until then, the true heroes are the players who came forward and blew the whistle on these contemptible rituals.
"There was one or two courageous kids that stepped up and did the right thing and prevented one less child from being harassed, intimidated and bullied," Labbe told ABC News. "And to me, those are the true heroes of this."