9 Videos Reveal How Some of the Greatest Songs in History Were Written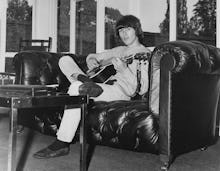 Songwriting is a tricky business. Telling a powerful story in three minutes (not to mention making it sound good) is a talent few truly have, one that perplexes the rest of us who have tuned up our guitars only to rhyme "rain" with "pain."
But the best writers have more than just craft on their side. There's always a story behind the best songs, the ones that stay relevant to millions for decades. Here are nine videos that reveal some behind-the-scenes magic from some of the greatest songs of all time.
1. "Imagine" by John Lennon
Though John Lennon is best remembered for his work with the Beatles, his solo output was equally impressive. Check out this clip from Gimme Some Truth, which shows Lennon in the studio recording his masterpiece.
2. "God Only Knows" by the Beach Boys
"God Only Knows" has been in the news thanks to a new star-studded cover, featuring Elton John, Lorde and more. This video details the creative process behind the original, which many consider to be one of the greatest love songs ever written.
3. "Strawberry Fields Forever" by the Beatles
"Strawberry Fields Forever" is one of the Fab Four's most loved tracks, inspiring, among other things, a thousand salads. This clip contains the first part of a larger documentary on the making of Sgt. Pepper's Lonely Hearts Club Band, for which the track, a lynchpin of their subsequent album, Magical Mystery Tour, was originally intended.
4. "London Calling" by the Clash
The Clash are punk royalty, and London Calling is their magnum opus. This short documentary details the writing and recording of their defining album, including its legendary title track. 
5. "Smells Like Teen Spirit" by Nirvana
Nirvana forever changed rock music when their second album, Nevermind, came out in 1991. This interview with the album's producer, Bruce Vig, shines a light on how the band recorded "Smells Like Teen Spirit," their best-known song.
6. "Born to Run" by Bruce Springsteen
Born to Run, Bruce Springsteen's third album, and its title track are pillars of American rock music, the quintessential portrait of young adult life in working-class America. This making-of documentary, while on the long side, is worth it to see how the Boss and his band wrote the music that made him a superstar. Springsteen attacked the record with characteristic verve, rolling the tape so often that he actually wore it through. The final recording is a masterpiece of thoughtful overdubbing.
7. "Stairway to Heaven" by Led Zeppelin
If you've ever been in a guitar store, odds are you've heard the opening chords of "Stairway to Heaven" more times than you'd prefer. The eight-minute epic is now the cornerstone of Led Zeppelin's massive career, showcasing vocalist Robert Plant and guitarist Jimmy Page at their most virtuosic. Here's a short, humorous interview with Plant and Page about how the iconic song came to be.
8. "Jolene" by Dolly Parton
The reigning queen of country music, Dolly Parton revolutionized the genre with both her preternatural songwriting talent and outsized personality. Here's Parton talking about her most famous song, "Jolene," which was inspired by an audience member.
Years later, it would inspire a freakishly good cover by Miley Cyrus.
9. "Billie Jean" by Michael Jackson
Michael Jackson is behind some of the greatest pop songs ever written, including 1983's "Billie Jean." In this interview, he explains how the song was inspired by a simple bass line, essentially "writing itself." As was his style, though, the entire structure of the piece can mostly be distilled down to his vocals.