5 Way Better Throwback Alternatives for Each New Fall TV Show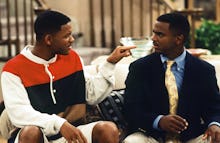 It's officially autumn and that means one thing. No, not #PumpkinSpice (we're already pumpkin-ed out and it's barely mid-October): fall television.
'Tis the season for a whole passel of spankin' new TV shows, some of which will be quickly and effectively canceled, a few of which will prove remarkable and the large majority of which will get lost somewhere in the shuffle. While there are certainly quite a few series premieres that have passed the first few episodes test we thought we'd offer some alternatives, in the form of similar yet bygone series you might revisit instead of turning to this season's offerings.
1. Instead of watching Gotham, revisit The O.C.
The premise of Gotham: The hotly anticipated Batman origin story on FOX follows a young Commissioner Gordon (Benjamin McKenzie) as he takes out the trash in the title city and crosses paths with a slew of DC Comics heavyweights (a young Catwoman, young Riddler, young Penguin, etc.) as they all evolve into the characters we know today. Unfortunately, while the cinematography is suitably grim a la the Christopher Nolan franchise, both the acting and the writing has garnered mixed if not middling-to-poor reviews. 
Throwback alternative: Most viewers are only tuning into Gotham to see McKenzie in his first big role since his turn as troubled hunk with a heart of gold Ryan Atwood on FOX's much-beloved teen drama, anyway, right? In turns as dark as the Batman franchise — adultery, drug addiction, murder, biting snark! — The O.C. is quite possibly the best young drama of our generation. Unfortunately, Netflix has yet to pick it up, but it's worth buying the DVDs. Because: Seth Cohen!
2. Instead of watching Black-ish, revisit Fresh Prince of Bel-Air.
The premise of Black-ish: Anthony Anderson stars as the patriarch of an upper-middle class African-American family struggling to keep his children in touch with black culture despite their white bread surroundings. (His son goes out for field hockey instead of basketball, etc.) Con: We wonder if the concept could wander into offensive stereotype territory. Pro: Laurence Fishburne plays Anderson's meddling Pops.
Throwback alternative: Instead of tuning into Black-ish reminisce with a pre-Scientology Will Smith as his West Philadelphia, born and raised, cut-up culture clashes with his upper class relatives in Bel-Air. Come on, like you'd miss a chance to do the "Carlton" in your living room, for old time's sakes? Plus, it's a nice way to pay homage to James Avery (Uncle Phil) who passed away last December.  
3. Instead of watching Selfie, revisit Clarissa Explains It All. 
The premise of Selfie: Frankly, even the commercials and teasers, which should contain the show's best zingers, are insufferable. This modern-day take on My Fair Lady stars Doctor Who's Karen Gillan as Eliza Dooley, a self-obsessed 20-something who cares about her social media presence and little else. We'd tune in for Harold and Kumar's ever-likable John Cho as her would-be life mentor, but, honestly, if we never heard the word "selfie" again, it would be too soon.
4. Instead of watching Survivor's Remorse, revisit Entourage.
The premise of Survivor's Remorse: LeBron James is one of the executive producers of this new Starz series about young athlete Cam Calloway (Jesse T. Usher) who hits it big after signing a pro basketball contract and subsequently moves his family to upscale Atlanta to come with him. The series follows the highs and lows as Cam's star skyrockets — and his family and friends struggle to keep up, fit in and, at times, take advantage of him.
Throwback alternative: Sound familiar? Think Adrian Grenier's Vincent Chase, the amiable, pretty-faced actor who becomes a movie star overnight and moves his band of loveable goons from Queens to Hollywood. While the HBO series losing steam and fodder for original story lines in the later seasons, the early days with Johnny Drama, Turtle and Co. were pure gold. Ari Gold, that is. Jeremy Piven's turn as Vince's fast-talking, cocksure agent is his best role to date.
5. Instead of watching NCIS: New Orleans, revisit True Detective. 
The premise of NCIS: New Orleans: The latest spin-off of the popular CBS crime drama dumps its detectives in the Big Easy, amid the hard-partying Bourbon Street scene and more effectively, the eerie swampland and bayous that form its murky outskirts. Same formula, different locale.
Throwback alternative: If you missed the debut season of HBO's riveting, atmospheric crime drama/thriller series — go watch it. If you didn't: Watch it again. Many a disgruntled fan has taken to Twitter to gripe about the casting of season two's leads — Colin Farrell and Vince Vaughn — but that's just testament to how effective Emmy-winner Matthew McConaughey and Woody Harrelson were as tragically flawed law enforcers following a serial killer's twisted trail through the badlands of Louisiana.