Jon Stewart Calls Bullsh*t on GOP's Patronizing Appeal to Female Voters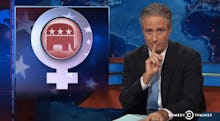 What's worse than Republicans' stance on women's issues? Their ads trying to prove they know what they're talking about on women's issues.
In a humorous bit that only the Daily Show could pull off, Kristen Schaal and Jon Stewart reveal just how out of touch Republicans are when it comes to reaching people who aren't dudes. The always colorful Schaal goes through a slew of ads, all more outrageous than the other, to expose the patronizing and infantilizing tone employed in the GOP's latest marketing push.
As parodies they would be hilarious, but as bona fide, conservative political spots, these clips are hard to watch.
In their attempt to "reach" female voters, the Republican party seems mostly to have highlighted their contempt for them.
Apparently, the GOP's new PR strategy hinges on treating women with as little respect for their intellect as possible. Whether it's Gov. Rick Scott's ad comparing voting to picking a wedding dress or the Americans for Shared Prosperity's pitch suggesting that President Barack Obama is like an abusive boyfriend, it's painfully clear that the GOP hasn't mastered the art of speaking to the ladies.
This is problematic on a number of fronts.
Women aren't only the majority of the population, they also make up the majority of voters. They have heavily influenced elections and are projected to wield similar clout in this year's primary elections, too.
Ultimately, women have proven that they are influenced by policy, not marketing gimmicks. If the GOP really cared about cornering this key demographic, they should be spending their time coming up with more progressive stances on the issues women care about most.
It's not exactly rocket science. Polls show shows that American women less likely to vote for candidates who supported the Supreme Court's decision on Hobby Lobby. Tellingly, the most vocal political supporters of the court's decision were conservatives — maybe that's where their public relations department should be focused?
Women don't need to be tricked into voting for Republicans, they need to be convinced that Republicans can be trusted when it comes to decisions protecting privacy, gender equality, health care and a whole host of other important issues. Until that happens, no amount of patronizing pandering is going to change their vote come election day.