Microsoft's CEO Has Some Magical Ideas on How to Pay Women Equally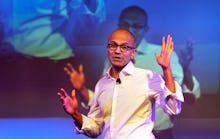 The news: Women may make up less than 30% of Microsoft's workforce, but rest assured: They don't need to ask for raises or promotions, because the system is completely fair.
That's the message Microsoft CEO Satya Nadella delivered to a stunned audience at the Grace Hopper Celebration of Women in Computing event in Phoenix on Thursday. According to Nadella, women don't need to go out of their way to earn respect and fair compensation. They just need to leave it up to the system and sheer luck.
"It's not really about asking for a raise, but knowing and having faith that the system will give you the right raise," Nadella told the audience. "That might be one of the initial 'super powers,' that quite frankly, women (who) don't ask for a raise have. It's good karma. It will come back."
So much for Lean In. Despite the persistent wage gap, and the fact that women have a harder time asking for a raise and are often criticized when they do, tone-deaf comments like Nadella's are far from unique.
On the same day, the Grace Hopper event hosted a "male allies" panel with the heads of top tech companies. And while they may have been well-intentioned, the all-male panel trotted out age-old platitudes about how women simply have to work harder to be recognized.
"It will be twice as hard for you ... but you can make a big difference in your company," Alan Eustace, Google's senior vice president of knowledge, said at the panel. "The best thing you can do is excel, and to push through whatever boundaries you see in front of you. Just continue to push and be great."
Nadella's initial comment has since been torn apart by publications and even by attendees at the event, forcing the CEO to tweet this non-explanation:
"I answered that question completely wrong ... I believe men and women should get equal pay for equal work," Nadella also wrote in an email to Microsoft employees. "And when it comes to career advice on getting a raise when you think it's deserved, Maria's advice was the right advice. If you think you deserve a raise, you should just ask."
Microsoft still has a long way to go. While it is considered one the more progressive companies in Silicon Valley, Microsoft's own employee data show it remains as male and white as others in the tech scene:
If Nadella truly is as committed as he says he is to making his company a better environment for women, he might consider addressing these statistics, instead of just insisting that the system works.