There's a Massive Typhoon Heading for Japan. Here's What it Looks Like from Space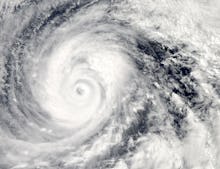 The news: Super-typhoon Vongfong is bearing down on Japan. And one of the best views of the nature's terrifying beauty comes from 205 miles above the Earth.
On Thursday, astronaut Reid Wiseman got a good look at Vongfong from aboard the International Space Station. Wiseman, who has gained viral popularity for his striking space photography, then tweeted this incredible shot of the typhoon: "I've seen many from here, but none like this," he wrote.
Vongfong is going to cause serious trouble. The typhoon is the biggest we've seen since 2013's Haiyan, which caused thousands of deaths in the Asia-Pacific region. As a category 4 typhoon, Vongfong had maximum sustained winds of more than 160 mph and is already causing ocean swells of up to 47 feet.
It is expected to hit Japan by Monday. The island nation is still recovering from Typhoon Phanfone, which killed nine people earlier this week. And by the time that Vongfong makes landfall, it's not going to look pretty — no matter how beautiful and awe-inspiring it might look from space.