Malala Yousafzai Just Made History With Her Nobel Peace Prize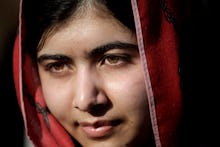 Pakistani teenager Malala Yousafzai just became the youngest Nobel Prize winner in history.
Yousafzai, 17, and Satyarthi, 60, were chose "for their struggle against the oppression of children and young people, and for the right of all children to education," the Norwegian Nobel Committee said.
Yousafzai was attacked and shot in the head by masked gunmen in 2012 in northwest Pakistan as a punishment for a blog that she started writing for the BBC's Urdu service as an 11-year-old to campaign against the Taliban's efforts to deny women an education.
"Unable to return to Pakistan after her recovery, Yousafzai moved to Britain, setting up the Malala Fund and supporting local education advocacy groups with a focus on Pakistan, Nigeria, Jordan, Syria and Kenya," Reuters reports. 
"Despite her youth, Malala Yousafzai, has already fought for several years for the right of girls to education and has shown by example that children and young people too can contribute to improving their own situations," said Thorbjorn Jagland, chairman of the Norwegian Nobel Committee. "This she has done under the most dangerous circumstances. Through her heroic struggle she has become a leading spokesperson for girls' rights to education."
"It's a great honor for all the Indians, it's an honor for all those children who have been still living in slavery despite of all the advancement in technology, market and economy," he told the BBC. "And I dedicate this award to all those children in the world."
Editors Note: Mar. 3, 2015 
An earlier version of this article cited Reuters' reporting, but did not include quotations around the cited passages. The story has been updated to fully attribute Reuters' language.