GOP Senator Releases Much-Needed Funds to Fight Ebola That He Previously Blocked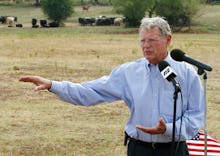 Update: Sen. Inhofe announced Friday that he was lifting his hold on the funding. In a statement, the senator said, "After careful consideration, I believe that the outbreak has reached a point that the only organization in the world able to provide the capabilities and speed necessary to respond to this crisis is the U.S. military."
Our original story is below:
Sen. James Inhofe (R-Okla.) is holding hostage $700 million to fund the U.S. military mission to help stop the spread of the Ebola virus in West Africa — cash requested by the Pentagon and signed off on by two Republican House committee and subcommittee chairmen — pending "answers" from the White House.
As the ranking Republican member on the Senate Armed Services Committee, Inhofe needs to sign off, along with the Democratic chairman, Michigan Sen. Carl Levin, on any "reprogramming" of Defense Department money. Funding for the Ebola mission was not, of course, in the original Pentagon budget.
Levin, along with the Democratic chairman and Republican ranking member of the Senate Appropriations Committee, have already given their OK.
Asked by the Associated Press about the senator's obstinance, Inhofe spokeswoman Donelle Harder said "[administration] officials were unable to define a transition plan if the funds are spent in six months, as expected," and that they "were unable to thoroughly answer how troops would be protected from exposure to the disease."
The Hill reported that congressional leaders knew Inhofe had plans to block the dispersal but hoped he would stand down after Republicans in the House dropped their opposition. 
But, according to the Hill, Harder "said Thursday that there is no change in his decision after approval from the other committees," and that he remains concerned about placing further strains on "on a defense budget already stretched thin."
MarketWatch got in touch Thursday night with Harder, who "said in an email that the Oklahoma lawmaker is 'still working with the administration to get answers to his concerns'" and that he's "hoping the Pentagon can address these concerns by the end of this week.'"
But don't say Inhofe doesn't care about Africa. The Republican has strong ties to at least one group operating on the continent: Called the Family, it helped Ugandan legislators craft their vile, since discarded, anti-gay laws.
That concern, though, only goes so far. And Inhofe is playing politics with funds that are desperately needed by the thousands of people affected by Ebola in West Africa.