8 Ways Malala Has Made the World Better for Women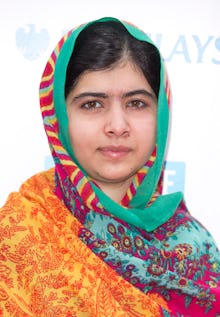 Friday's announcement that Malala Yousafazai has won the Nobel Peace Prize, alongside 60-year-children's right activist Kailash Satyarthi from India, is phenomenal news for the entire world. 
The youngest Nobel laureate at the age of 17, Malala has already made her mark on history. A tireless advocate for girls' education, Malala's first blog in 2009 exposed how the Taliban's increasing control over the Swat Valley in Pakistan was hindering girls' education. Enraged by her courage, the Taliban shot her in the face on a school bus in a failed assassination attemptOct. 9, 2012. 
"They thought that the bullets would silence us. But they failed," the teen remarked during her powerful speech at the United Nations this past July. (The UN christened July 14, 2014, as Malala Day.) "And then, out of that silence came, thousands of voices. The terrorists thought that they would change our aims and stop our ambitions but nothing changed in my life except this: Weakness, fear and hopelessness died. Strength, power and courage was born." 
"I am the same Malala. My ambitions are the same. My hopes are the same. My dreams are the same."
Since the attempt on her life, Malala has been an unstoppable advocate for children's education,  specifically the education of girls, as well as gender equality. 
As Thorbjorn Jagland, chairman of the Norwegian Nobel Committee, said during the morning's announcement, "Despite her youth, Malala Yousafzai, has already fought for several years for the right of girls to education and has shown by example that children and young people too can contribute to improving their own situations. This she has done under the most dangerous circumstances. Through her heroic struggle she has become a leading spokesperson for girls' rights to education."
In an era increasingly awash in newly minted celebrity feminists, Malala is the real deal. The Nobel committee's decision is an encouraging step towards a new age of global consciousness about gender equality. Arguably, not since the likes of Hillary Clinton's 1996 statement that "women's rights are human rights" has someone so embodied the spirit of worldwide feminism.
Here are eight of the many ways Malala has made the world a better place for women:
1. She knows that girls' rights are human rights.
Through her composure, intelligence and advocacy, Malala has proven that girls demand respect, and they  demand human rights. The importance of elevating this perspective was highlighted by the Girl Declaration, which outlines the policy and cultural changes necessary for girls to attain human rights and which Malala signed along with dozens of other important thinkers and advocates from around the globe. 
"I have a name and it's not anonymous or insignificant or unworthy waiting to be called," the declaration reads in part. "This is the moment when my rising no longer scares you. This is the moment when being a girl became my strength, my sanctuary not my pain."
2. She advocates for women as peacemakers; the politics of feminism should not driven by hate or revenge. 
Malala has never intimated violence as the solution or advocated for revenge against those who tried to do her harm. "I do not even hate the Talib who shot me," she told the UN General Assembly in 2013. "Even if there is a gun in my hand and he stands in front of me. I would not shoot him. ... This is what my soul is telling me, be peaceful and love everyone."
3. She shows that women care about other women.
Malala's travels around the world, specifically her visits to Nigeria this year to highlight Boko Haram's abduction of dozens of young girls, have demonstrated how women can be each others greatest champions.
"I am focusing on women's rights and girls' education because they are suffering the most," Malala began her UN speech. "There was a time when women social activists asked men to stand up for their rights. But, this time, we will do it by ourselves. I am not telling men to step away from speaking for women's rights rather I am focusing on women to be independent to fight for themselves."
But she is not only leading through her words. Indeed, Malala celebrated her 17th birthday with some of the girls who had escaped Boko Haram and are now back home in the village of Chibok. She also spoke with Nigeria's president, Goodluck Jonathan, who promised to ensure the rest of the kidnapped girls' safe return.
4. She works for the rights of all girls to receive an education.
During her UN speech Malala directly asked all "developed nations to support the expansion of educational opportunities for girls in the developing world."
"Education is our right," she reiterates in her memoir, I Am Malala. "Just as it is our right to sing. Islam has given us this right and says that every girl and boy should go to school. The Quran says we should seek knowledge, study hard and learn the mysteries of our world." 
5. She highlights how education can lift girls out of poverty.
Malala understands how education can change the lives of girls and women, enabling them with the tools and resources to find jobs and become economically self-sufficient. 
"Education is the best weapon we have to fight poverty, ignorance and terrorism," she wrote in an op-ed for the Guardian in June. 
6. She understands that education is the key to gender equality. 
"In Pakistan when women say they want independence, people think this means we don't want to obey our fathers, brothers or husbands." she writes in I Am Malala. "But it does not mean that. It means we want to make decisions for ourselves. We want to be free to go to school or to go to work. Nowhere is it written in the Quran that a woman should be dependent on a man. The word has not come down from the heavens to tell us that every woman should listen to a man." 
7. She champions literacy as a way to make women warriors.
"The wise saying, 'The pen is mightier than sword' was true," she observed during her UN speech. "The extremists are afraid of books and pens. The power of education frightens them. They are afraid of women. The power of the voice of women frightens them."
"We must believe in the power and the strength of our words. Our words can change the world ... let us pick up our books and pens. They are our most powerful weapons."
8. She proves that fear and violence will not stop women from fighting for equal rights.
Thanks to Malala's example, women around the world know they no longer need to be intimidated by fear or violence. Her bravery and resilience is a shining beacon to all of us when we feel the fight for gender equality might be insurmountable. 
"The terrorists thought that they would change our aims and stop our ambitions," she told the UN delegates. "But nothing changed in my life except this: Weakness, fear and hopelessness died. Strength, power and courage was born."