Obama Has a Warning for Republican Politicians on Immigration Reform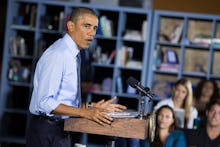 President Obama has a warning for Republican politicians who refuse to compromise on immigration reform: It's not going to end well for them.
"It's anybody's guess how Republicans are thinking about this," Obama told community members during a meeting in Santa Monica, California. "If they were thinking long-term politically, it is suicide for them not to do this."
"The demographics of the country are such that you will lose a generation of immigrants which says, 'That party doesn't seem to care about me,'" the president said. "In the short term, they have a problem with the Tea Party and others who often express virulently anti-immigrant sentiment."
Republicans would be foolish to ignore the president's point: America's white demographic majority is quickly shrinking. According to recent census estimates, non-Hispanic white Americans will comprise less than half of the population by 2043. Those Americans under the age of 5 will be majority nonwhite by the end of this year or next. Within five years, more than half of children under the age of 18 will be members of the growing nonwhite population. California, the nation's most populous state, will already make the switch this year.
With wide economic and social disparities between whites and minority groups, these upcoming voters will want to elect leaders interested in and capable of responding to their needs and interests. A Republican Party that stands in resolute opposition to immigration reform is not going to look very attractive to immigrants and their children. Pew polling indicates that more than 1 in 4 Hispanic adults in the U.S. personally know someone who was deported or detained by the federal government. 
Inaction on immigration may hurt Democrats in the short term by lowering turnout, but the GOP will pay dearly if the Left still beats them among those voters. Some 87% of Latino voters told the Center for American Progress they would be more excited to vote in 2014 if Obama took action on immigration reform.
The GOP has few good options. They've been trying to work around immigration by portraying it as a matter of national security, but this movement has been riddled with hyperbole or outright conspiracy theories linking undocumented immigrants with everything from drug gangs to Ebola to ISIS. This strategy might increase support for tougher border security right now, but could also backfire by alienating Latinos or making right-wing candidates seem, as the president observed, "virulently anti-immigrant." (But it doesn't take a Tea Party star to appeal to this line of thinking: New Hampshire's Scott Brown is already putting out some very foolish ads linking the border crisis to terrorism.) Besides, enhanced security is a separate issue from the nearly 12 million immigrants without legal documents in the United States, many of whom will inevitably become voters. Mass deportation is a fantasy.
It doesn't look like Latino voters will be the decisive factor in any competitive elections next month. Conservative Democrats fearful of GOP contenders have successfully pressured the president to delay his promised executive actions on immigration reform, leading to threats from Latino groups to withhold support. But as the Washington Post's David Damore observed from an analysis of voter data, Latinos "have not yet been fully integrated into the political system" and many have a "lack of strong partisan identities," meaning that much of America's upcoming political landscape may be shaped by struggles for their support — potentially as soon as 2016.