Powerful Portraits of Centenarian Refugees Capture the Real Cost of Syria's Civil War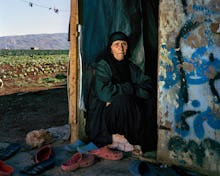 "They say that if God loves you, he will let you live a long life," said Ahmad, a Syrian refugee in the Bekaa Valley of Lebanon. "But I wish that He loved me a little less. I wish that I didn't live long enough to see my country in ruins."
The 102-year-old is among the few centenarians who sat for a portrait taken by a UN refugee agency  photographer. They've witnessed their villages and cities crumble from the ongoing civil war that, now in its third year, has displaced more than 3 million Syrians across the region with 100,000 refugees registered each month.
This week, Jordan closed its borders, leaving hundreds of refugees stranded in the desert with no food and shelter, the Middle East Eye reports. Analysts point to the timing of the closure as Jordan joined the U.S.-led air strikes against Islamic State militants in Iraq and Syria. The closure may prevent anti-Jordanian militants from entering the country, though it's more likely that the country is reaching its humanitarian limits, including scarce water resources.
While critics call the wave of refugees into the countries "a demographic disaster of historic proportions," the Middle East Eye reported, for the hundreds of thousands of refugees already living in border towns, many just want to go home. The most vulnerable of the group, centenarians who have lived through more than 100 years of the region's prosperity and conflict, humanize the overwhelming statistics. For Syria's centenarians, the crisis has now eclipsed everything in the last 100 years. 
This year, photographer Andrew McConnell traveled across Lebanon, where thousands of displaced Syrians have found refuge. His beautiful portraits and interviews, all featured in Medium, reveal the hope and tragedy of the crisis:
Bahira, 100, pictured in her family's rented home in Dawha, near Beirut, Lebanon.  
"Syria is a masterpiece created by God. You feel wonderful when it is in front of you," said Bahira, who aches for her homeland, a mythical place in her imagination.
"Where we lived there was no mention of Sunni, or Christian or Druze, no one asked about religion and no-one was discriminated against," she said. Bahira does not complain, but her son admits that sometimes, in the middle of the night, he wakes to find her crying alone on the couch. 
Saada, 100, pictured in her son's rented home in Nabi Chit, Bekaa Valley in Lebanon.
Saada lies on a little mattress in the small house she shares with her son and his wife in Lebanon's Bekaa Valley. "Is it time to pray? Did the Athan begin?" These are the only words she utters. Blind for 14 years and almost completely deaf, her days are an unwavering routine that revolve around praying, occasional eating and nostalgic reminiscences about life in Syria.
Ahmad, 102, pictured outside his family's shelter at a tented settlement in the Bekaa Valley.
Ahmad fled Syria for his health: The war had made it impossible for him to get the prostate surgery that he needed so he came with his family to Lebanon. He got the surgery but now he can no longer go home.  But he finds he gains some strength from his memories and from his family. When he was younger, he recalled, his favorite thing to do was to ride horses. 
"I started to ride when I was around 15 years old and kept riding until people started driving cars and I started walking," he said. "I used to walk everywhere, I never had a car, never drove one." Today he has 11 children and more grandchildren and great-grandchildren than he can recall. "I surely can't remember all their names," he said with a laugh.
Khadra, 104, pictured inside her family's shelter at a tented settlement in the Bekaa Valley.
At 104 years old, Khadra was forced to flee from her village in central Syria, an experience that has now eclipsed everything that went before. She recounted how her neighbors grabbed her from her home just as planes started to bomb her village. "I did not want to leave," she exclaimed. In Syria, Khadra lived in a house of her own where she cooked, cleaned, ran errands and walked up to two kilometers every day. According to Khadra's son, his mother was a strong healthy woman with lots of energy.  
Ghetwan, 100, pictured outside his family's rented home in Saida, Lebanon,
Ghetwan, 100, and his wife, Khaduj have a long marriage. The couple wed 72 years ago, at the height of World War II. When asked what Khaduj loves most about her husband, she replies: "When he was younger, he was very poor and had nothing. But he was a very strong man, a real man. He could kick the asses of 50 men!" The call to prayer echoes through their home.
Saada, 102, pictured in her son's rented home in Nabi Chit, Bekaa Valley.
Saada is 102 years old and without a home. But surrounded by her family and neighbors, you can easily tell why everyone enjoys her company as she recalls her earlier days in Syria: "Nobody had time to make wars back then," she said. "We used to wake up before the sun and go to work in the fields. By the end of the day I used to be so exhausted that I'd fall asleep on the donkey's back on my way back home." Saada is a resilient woman.  
She lost seven of her 10 children at a young age, her husband 13 years ago and now, her country. She was reluctant to leave at first. Even when the bombing started in her home region, she just continued with her daily routine: "I was sitting outside, sorting the olives and the plane was above me. They called and yelled from the house for me to come inside, but I told them 'why? The plane doesn't want anything from me; I am not going to fight it with olives!'" 
Dagha, 101, photographed at her family's shelter in northern Lebanon.
Dagha used to listen to the sound of shells falling in Syria from her family's little tent in Lebanon. Sitting quietly on the hill, she would mend clothes and try to figure out which part of her homeland the shelling was coming from. Then she suffered a stroke.
Now partially paralysed, she can only squeeze the hands of family and friends who come up to give her a kiss. Every week, news arrives of more people who have died in her home village – including relatives. Her family say she often cries in her sleep.
"Her biggest fear is that she'll die in Lebanon," says Fatima, Dagha's granddaughter. "Before her stroke, when she was still able to talk as clearly as a teenager, she'd say, 'Bury me elsewhere when I die. Bury me in Syria, please promise me you'll bury me at home.'"