A 12-Year-Old's Viral Letter Just Shamed This Company Into Addressing Its Sexism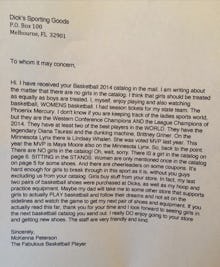 You go, girl.
Twelve-year-old self-declared "fabulous basketball player" and WNBA fan McKenna Peterson isn't happy that Dick's Sporting Goods failed to include any women in their latest catalog.
"There are NO girls in your catalog! Oh, wait, sorry," she writes in a sarcastic letter sent to the company that her dad posted on Twitter last week. "There IS a girl in the catalog on page 6. SITTING in the STANDS." Also, she admits, there are "cheerleaders on some coupons."
The daughter of NBC sports journalist Chris Peterson, McKenna clearly knows a thing or two about sports representation. Her epic letter calls attention to multiple levels of sexism in one shining, sassy piece of editorial. 
Most important, she reminds Dick's that women are consumers of sports culture: They play sports, which means that they need to buy athletic equipment and attire to perform, and they watch sports, which they celebrate by purchasing paraphernalia to represent their sports teams.
"Girls buy stuff from your store," the letter goes on, encapsulating female purchasing power in language even Dick's should be able to understand. Then, syntax be damned (granted, she's 12), McKenna throws down the gauntlet, vowing that her continuing brand loyalty will depend on Dick's acknowledging and respecting female consumers as a legitimate, and powerful, market: 
"Maybe my dad will take me to another store that supports girls to actually PLAY basketball and follow their dreams and not sit on the sidelines and watch the game to get my next pair of shoes and equipment."
The tweet has received over 5,000 retweets.
Call it a victory: According to CBC News, Dick's responded to McKenna "thanking [her] for her observations and acknowledging that she had a point," which her dad then tweeted.
"We have taken your comments to heart and are currently reviewing our catalog process so we can do a better job in the future."
Actions speak louder than words, though — until then, McKenna remains unsatisfied.