Coca-Cola Is Bleeding Indian Towns Dry — But Not if These Farmers Can Stop It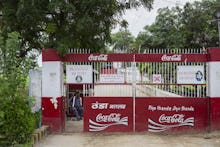 They've launched a successful mission to Mars, but India's government still has a lot of work to do on a major domestic concern: managing the country's dwindling groundwater resources. And there's one clear party to blame.
In the state of Uttar Pradesh, in northern Indian, farmers are decidedly unhappy with the neighboring Coca-Cola plant that's been rapidly depleting the decade-old area wells. It's been happening for years, but the impact on local resources is finally coming to a tipping point. Farmers living in remote villages have decided to take action against the corporate giant.
The villagers recently journeyed from their rural village of Mehadiganj to smash and break bottles of Coca-Cola on the streets of Mumbai and New Delhi to protest the company's aggressive extraction of groundwater in their hometowns, Bloomberg reported.
But just how much attention should India's prime minister Narendra Modi give to the villagers' protests? If you look at the numbers, probably quite a bit.
Of the 1.2 billion people living in the country, about 742 million live and farm in agricultural heartlands. Farmers use nearly 70% of the total groundwater drawn in the country each year, according to data from the World Bank. According to Bloomberg, the water extracted from India's wells represents more than one-quarter of the world's total.
Across India, farmers in villages like Mehadiganj now have to dig deeper wells to compete with industry, reminders of which constantly manifest themselves as Coca-Cola's bright red soda crates tower above their modest homes and grazing grounds.
"We're too poor to drill deeper," 28-year-old farmer Sabita Rai told Bloomberg News. When the wells dried up and they had to travel farther and farther to collect water, Rai's sister-in-law Rajpatti organized others farmers and journeyed to the city.
This summer, the beverage company was supposed to invest $24 million to expand its bottling plant in Mehadiganj, but protests and delays in permits to extract more water brought the plans to a temporary halt.
"You have unregulated use of a resource which is not easily renewed," Upmanu Lall, a professor of earth and environmental engineering at Columbia University in New York, told Bloomberg News. "It's a really significant concern over the whole country."
One proposed solution is in the form of a $92 billion project, in which Modi plans to connect 30 rivers.
Tensions over water, as seen in the extreme way Islamic State militants are using the resource to fuel conflict, will only increase without proper resource management.
"We see thousands of years of examples where water has been a source of tension in one form or another," Peter Gleick, president of the Pacific Institute, told the Guardian. "But violence related to water is growing, not shrinking."
For the villagers of Mehadiganj, the peaceful protests can only grow louder as more farmers rebuke such bad neighbors.